I've decided to make our Changing Habits 21 Step Reset Program my Blog for this week, due to recent customer feedback…
Wanting to change their food habits and make a fresh start for 2015, some of our customers have commenced our 4 Phase Fat Elimination Protocol but have found it a little difficult due to the following reasons. A lot of people have been on either many yo yo diets or a SAD (Standard Australian/American Diet) for quite some time, consisting of packaged foods made from artificial and modified ingredients. Therefore, their body has not been ready for the advanced loss process that occurs with our 4 Phase Fat Elimination Protocol. Also, we have found that some people can have both emotional and health issues associated with food that really need to be addressed before commencing the loss protocol.
So a recommended alternative is our
21 Step Reset Progam
which is the perfect place to start. Coupled with the information from my book
Changing Habits Changing Lives
, the 21 Step Reset Program is a wonderful introduction into eating real foods again and it sets the body and mind up for really understanding the heart of health problems.  From the Reset, you can then delve into stricter and more advanced programs that have the ability to propel you to your health and weight goals. Once started, we also recommend that you continue with our 21 Step Reset for several months.
If you know someone who may need help but they don't know where to start, then perhaps nudge them towards the 21 Step Reset.  When followed, the Reset can make changes and guide people to better health.
The key is education, then guidance.  As we know better, we can make better choices for our health and our family's health.
We are here to help, encourage, inspire and educate you to a healthier,
more energetic version of yourself. Step by step, habit by habit, the
changes are easy. Stick with each one and as one builds upon the other,
you will be surprised over 21 Steps how much you will change and how
much your health will improve.
Please take a moment to watch this short introduction video that will inspire you to start making your lifelong change today.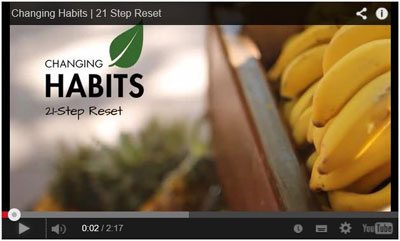 We have two options for you with the 21 Step Reset Program.
Cyndi O'Meara and the Changing Habits Team