What Exactly is a Ketogenic Diet?
Ketogenic diets seem to be the latest diet trend at the moment. But what exactly is a ketogenic diet? It's a low-carb, high-fat (LCHF) diet with moderate amounts of protein. It involves drastically reducing your carbohydrate intake and replacing it with quality fat. The reduction in carbohydrates puts your body into a metabolic state called ketosis.
What Does Ketosis Do To My Body?
The 'keto' in a ketogenic comes from the fact that it makes the body produce small fuel molecules called 'ketones'. Ketones are an alternative source of fuel for the body and they're used when glucose is in short supply. These ketones are produced in the liver from fat when you eat very little carbs. The ketones are then used as fuel throughout the body, including the brain.
When you change to a ketogenic diet, your entire body switches its fuel supply to run almost entirely on fat. Many researchers and health professionals say it can be a great diet to eat if you're looking to lose some weight. Other benefits of a ketogenic diet include stabilised blood sugar levels, improved mental focus; you will experience less hunger by staying satiated longer and have sustained energy levels.
Photo source from Ask Dr Matthew
In Simple Terms
A Ketogenic diet is a low carb, high fat diet that shifts the body's metabolism away from using carbs (glucose) as fuel, towards fat and ketones. Your body will become fat-adapted.
Watch this video for a visual explanation of Ketosis by Dr. Axe;  https://www.youtube.com/watch?v=kgKiA3F-JHw#action=share
What Do I Eat on a Ketogenic Diet?
Ideally, the fewer carbohydrates you eat, the better. Many people aim to keep their carbs under 50g per day and some aim to consume as little as 20g per day. A rough guideline that a lot of people like to follow is 10% energy from carbohydrates, 15-25% protein and 70% from quality fats.
Foods to Avoid on a Ketogenic Diet
Here is a list of foods that need to be dramatically reduced or eliminated on a ketogenic diet:
High sugary foods: cake, cookies, ice cream, lollies, fruit juice, soft drinks etc
Alcohol
Wheat and wheat based products: cereals, pasta, bread etc
Starchy vegetables: sweet potato, potato, carrots, parsnips, pumpkin, beetroot etc
Grains: rice, corn, millet, buckwheat, quinoa, barley, oats etc
Fruit: All fresh and dried fruit except small amounts of berries
Legumes: chickpeas, kidney beans, lentils, peas etc
Low fat diet products
Refined vegetable fats and oils
Processed, packaged and refined foods
Foods to Consume on a Ketogenic Diet

Here is a list of foods that can be enjoyed on a ketogenic diet:
Leafy greens: vegtables: cauliflower, brussel sprouts, broccoli etc
Other vegetables: zucchini, asparagus, green beans, onion, garlic, squash, celeriac, avocado, tomato etc
Fresh and dried herbs: basil, oregano, dill, rosemary, thyme etc
Spices: cinnamon, chilli, garam masala etc
Quality grass-fed and free-range meats: turkey, duck, chicken, beef, lamb etc
Seafood: fats: duck fat, lard, tallow, butter, ghee etc
Other fats: olive oil, macadamia oil, avocado oil, coconut oil etc
Others: Chia seeds, nuts, seeds, coconut cream/milk/yoghurt etc
Fruit: Berries (preferably organic)
Eggs
Dairy: (if tolerated) high quality sources of cream, cheese and butter/ghee
Condiments: cashew cheese, guacamole, homemade mayonnaise, tomato sauce and other homemade sugar-free dips/sauces
Fermented foods: kimchi, coconut yoghurt, kefir, sauerkraut etc.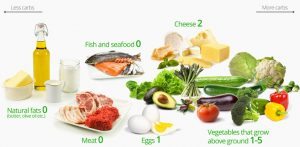 Photo source from 'Diet Doctor'
As a general rule of thumb, stick to fresh, whole foods from nature. You should be aiming to eat foods naturally high in quality fats. This includes fatty cuts of meat, avocadoes, coconut products, nuts, seeds, eggs, olive oil, butter, salmon and so on, alongside your allowed vegetables and leafy greens.
But Isn't Fat Bad For You?
Let's clear up the myth that fat is bad for you. In fact, humans need fat to be healthy. There are good quality fats from nature that we can enjoy in abundance, and then there are manipulated, refined and highly processed fats and oils that should be completely avoided.
The fats and oils that should be avoided include vegetable oils and fats. There are a few reasons for this; they contain high levels of Omega-6 fatty acids, many of them are genetically modified, promote inflammation within our bodies and they have a very lengthy refining process they have to go through.
You can read in detail the process these fats and oils have to go through and which are the ones you should be avoiding in my blog 'Why I Never Consume Vegetable Oils'.
If you are still questioning whether you can consume such a high amount of fats, lets go through some of the facts.
Every membrane of every cell and every organelle inside cells is made up of fats
Healthy bile release requires fat
Vitamins A, D, E & K are all fat-soluble vitamins, this means they need fat to be absorbed properly
Cholesterol balance requires plenty of fat. This is one HUGE area of confusion. I recommend you read the 'Cholesterol' chapter in Changing Habits Changing Lives and Changing Habits Cholesterol report so you can begin to educate yourself and learn the truth.
Blood sugar balance requires fat
Hormone balances requires fat
Quality fats have been found to enhance our immunity
Detox requires fat
Weight loss and weight management require fat
Eating saturated fats DOESN'T cause heart disease.
You can read in more detail why it's so important for us to consume quality fats in my blogs 'The Many Benefits of Fat' and 'Real Butter is Good For You'.
What About Exogenous Ketone Supplements – Can I Just Take Those Instead?
Another factor to consider when trying out a ketogenic diet is Exogenous Ketone Supplements. What is this you ask?
Exogenous Ketones have become an increasingly popular supplement since they were introduced on the market in 2014. Exogenous Ketones bodies are just ketone bodies that are ingested through a supplement. However, like any processed supplement there is often a lot of misinformation surrounding these products, so always do your own research on the ingredients and how they were processed.
While taking an exogenous ketone supplement may be a short-term fix for some people, it's really not the answer for long-term health. It's also very expensive; the price can range anywhere from $100 – $300 per month depending on the amount you take.
Additionally, it is not recommended to simply just take these 'magic' supplements while still maintaining a diet that may be full of refined, processed foods full of sugar, vegetable oils, preservatives, flavours and additives.
These supplements are not sustainable for the health of your body or for the environment. If you have more questions about these Keto supplements, want to learn what the ingredients are and how they can affect your body, then I highly recommend you read Cyndi's blog 'Ketosis Can We Achieve It In A Pill?'. You can also read more about Exogenous Ketone Supplements HERE.
What questions do you have about Ketosis that you want us to answer for you?
Jordan Pie