Value Pack
Father's Day Pack
$171.52
or 4 fortnightly payments of $37.50 with
More info
TREAT YOUR DAD | CHANCE TO WIN HIM A CAR OR $20K
Why not treat your Dad to our exclusive Father's Day bundle and be in the draw to win him – or yourself – a car or $20,000 cash while you're at it? Our Father's Day Pack includes some great products to make Dad's next BBQ marinade a triumph (including the Changing Habits Recipe Book for inspiration), plus a couple of little self-care treats.
The bundle includes our:  Inca Inchi Oil 250ml, Cinnamon Powder 100g, Turmeric Powder 100g, Curry Powder 100g, Black Peppercorns 100g, Seaweed Salt 500g, Rapadura Sugar 500g PLUS Hilbilby Original FiRE TONiC Appe Cider Vinegar 180ml, Bare by Bauer Beard Serum and a keyring/bottle opener!
Directions
Inca Inchi Oil 250ml
Our Inca Inchi Oil can be used in much the same way as you would use extra virgin olive oil – in salad dressings, on vegetables, pasta, to make a mayonnaise, as a dipping sauce, with a vinaigrette or as a replacement for flax seed oil. We do not recommend heating Inca Inchi Oil (to ensure the fatty acids are preserved). Daily intake 10gms.
Cinnamon Powder
This versatile spice can be used in both sweet and savoury dishes such as muesli, smoothies, cakes, baked or roast vegetables, curries and salads. Let your imagination go wild!
Turmeric Powder
Turmeric is a great spice to have in your pantry. It can be added to curries, casseroles, sprinkled on roasted vegetables, used to make a spice rub and added to rice and soups. It can also be used to make a tea or broth drink or even added to sweet dishes.
Curry Powder
Can been used as a rub or sprinkled on meat, fish, rice or veggies as well as for making curries, sauces and marinades.
Black Peppercorns
Refill your grinder with our Organic Black Peppercorns and crack on to your meals to season. Pepper loses its flavour and aroma through evaporation so grinding immediately before use is recommended.
Seaweed Salt 500g
Our Seaweed Salt can replace all other salt products. Use as a table salt and sprinkle on porridge, salads, vegetables and other meals, or use in cooking.
Rapadura Sugar 500g
You can use our Organic Rapadura Sugar for all your baking needs. It replaces white, raw and brown sugar like for like. 
Hilbilby Original FiRE TONiC Apple Cider Vinegar 180ml
For first time use, a cap full (5ml) is plenty, then recommended dosage as a daily health tonic is 5ml – 15ml, 1 to 3 times per day for effect, more for an extra boost. Other than neat, you can have Original FiRE TONiC® mixed or chased with water or minteral water, use it in salad dressings or Virgin or Bloody Marys, or you can make:
Fire on Ice – 10ml Original FiRE TONiC®, 1 level teaspoon of honey, cold still or sparkling water and slice of lemon
Fiery Tea – 10ml Original FiRE TONiC®, 1 level teaspoon of honey, boiling water and slice of lemon
Bare by Bauer Beard Serum
Use a few small drops on your clean hands, then work it through your beard and mo. Generally use one a day – but let your beard guide you (it will know what it wants). Shake well before use. Store in cool, dry place out of direct sunlight.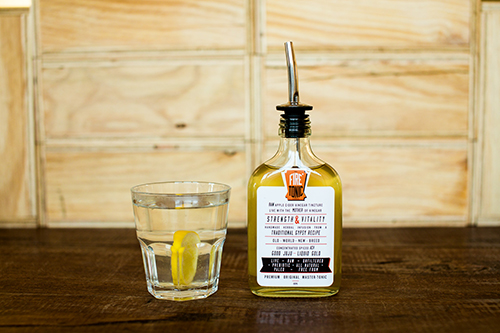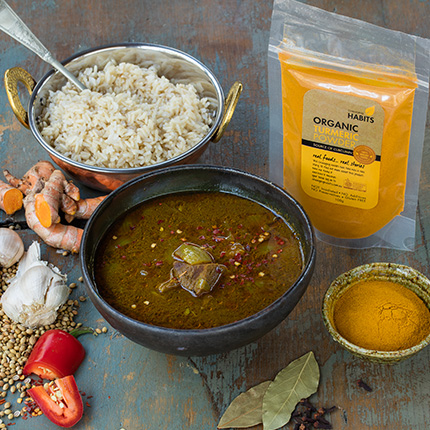 ingredients
Inca Inchi Oil 250ml
Cold pressed Inca Inchi Oil
Cinnamon Powder
100% Organic Ceylon Cinnamon Powder
Turmeric Powder
Organic Turmeric Powder
Curry Powder
Turmeric, curry leaves, chili, ginger, lemongrass, cinnamon, black pepper, coriander, mustard
Black Peppercorns
100% Organic Black Peppercorns
Seaweed Salt 500g
Pure Himalayan Crystal Salt mixed with Organic Dulse Powder
Rapadura Sugar 500g
Organic Rapadura Sugar
Hilbilby Original FiRE TONiC Apple Cider Vinegar 180ml
Aged raw unfiltered apple cider vinegar (ACV), raw honey, chillies, turmeric, garlic, horseradish, ginger, carrot, celery, red onion, brown onion, apply, orange, lemon, brown mustard seed, parsley, rosemary, oregano, thyme, juniper berries, black peppercorns, bay leaves, Szechuan pepper, Himalayan salt
Bare by Bauer Beard Serum
Masculinity, prunus dulcis (almond) oil**, ricinus communis (castor) oil*, olea europaea (olive) oil**, cedrus atlantica (cedarwood) essential oil*, copaifera officinalis (copaiba) essential oil*, rosmarinus officinalis (rosemary) essential oil*, thymus vulagris (thyme) essential oil, lavandula angustifolia (lavender) essential oil*. *Organic ingredient.

Health Tip Widget
Our easy to make, nutritious Lemon & Inca Inchi Oil Mayonnaise also includes Hilbilby Original Fire Tonic Apple Cider Vinegar
Seaweed Salt 500g and Rapadura Sugar 500g

–

Replaces generic table salt and white, raw or brown sugar
Changing Habits Recipe Book 

–

includes family friendly recipes that will help get the kids involved in the cooking process too!
Reviews
Description
Our Father's Day bundle includes some great products to make Dad's next BBQ marinade a triumph (including the Changing Habits Recipe Book for inspiration), plus a couple of little self-care treats. The bundle includes our:
Inca Inchi Oil 250ml

–

Plant derived | Cold pressed | Contains essential fatty acids
Cinnamon Powder

–

Organic | Aromatic Flavour | Versatile

Turmeric Powder

–

Organic | Natural source of curcumin | Pantry staple
Curry Powder

–

Mild heat | Rich in flavour | Versatile

Black Peppercorns

–

Spicy | Versatile | No additives

Seaweed Salt 500g

–

Pure Himalayan salt | Enriched with Dulse | Hand harvested
Rapadura Sugar 500g

–

100% unrefined sugar cane | Replaces white, raw or brown sugar
Changing Habits Recipe Book 

–

Over 140 recipes | Easy to follow | Nourishing food
PLUS
Hilbilby Original FiRE TONiC Appe Cider Vinegar 180ml

–

Live | Prebiotic | Handmade herbal infusion | Immune booster
Bare by Bauer Beard Serum

–

100% natural | Hand blended | Sustainable
A keyring/bottle opener