A beautiful and easy muesli recipe, serve it with fresh fruit and coconut yoghurt for a lighter, refreshing summer breakfast.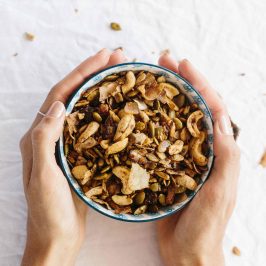 Prep Time5 mins
Cook Time15 mins
Total Time20 mins
Ingredients
2 cups chopped cashews (we used activated cashews)
3 cups mixed sunflower and pepita seeds (we used activated seeds)
Directions
1
Preheat the oven to 170C.
2
Mix all the ingredients together in a bowl (except the dates) and spread out evenly onto a baking tray.
3
Place in the oven and roast until golden (roughly 15-20 minutes- depending on your oven).
4
When it's ready, remove from the oven and allow it to cool completely before mixing in dates.
5
Store in an air tight container for up to 6-8 weeks.
6
Serve with Kultured Wellness coconut yoghurt or regular cow or goats yoghurt with fresh berries or seasonal fruit.