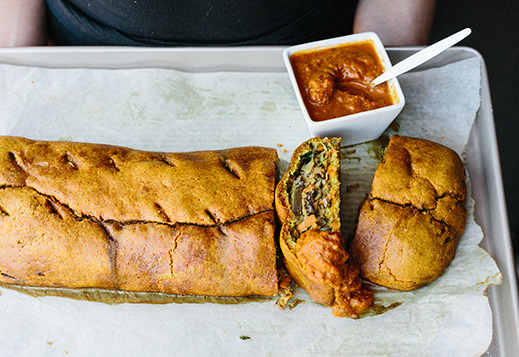 Prep Time15 mins
Cook Time45 mins
Total Time1 hr
Ingredients
400-500g organic mince (pork, lamb, chicken or beef)
2-4 garlic cloves, minced
1/2 zucchini grated (try to squeeze away excess liquid)
2 1/2 - 2 3/4 cups blanched almond meal
2-3 tsp apple cider vinegar
Directions
1
Preheat the oven to 180C.
2
Mix 2 1/2 cups of the almond meal, 2 small eggs, 1/2 Tbsp turmeric powder, coconut oil, salt and pepper to taste, baking powder and apple cider vinegar together until well combined. If the mixture is too wet add in small amounts of the extra almond meal until it forms a nice almond meal 'pastry' dough.
3
Place the pastry in the fridge for 20-30 minutes to harden.
4
Meanwhile mix the mince, veggies, garlic, onion, salt, pepper, herbs and 1 egg together in a bowl until evenly combined.
5
When the pastry is ready, roll it out in between 2 pieces of baking paper using a rolling pin until it's an even layer of pastry in a rectangle shape. Make sure it's thin enough, but not too thin as you don't want it falling apart.
6
Begin to place the mince on top of the pastry in a long thin line. Wrap the edges of the pastry so they cover and wrap the meat completely. Use your hands to mould it into a beautiful large sausage roll shape ensuring that there aren't any holes in the pastry.
7
Place the sausage roll onto a lined baking tray and place it in the oven to cook until golden brown. This took 40-45 minutes for ours to be cooked through.
8
We served it up with this Spicy Tomato Sauce and added in extra turmeric for its incredible anti-inflammatory properties and vibrant colour.