The secret to a decadent and delicious chocolate muffin is the ganache that covers it. Our ganache recipe  is made from only 4 ingredients and take minutes to make. It's pretty versatile you can also use it on top of homemade ice-cream, delish!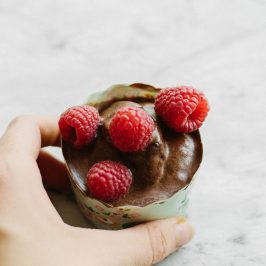 Prep Time10 mins
Cook Time20 mins
Total Time30 mins
Ingredients
They only needed 20-25 minutes in the oven.
Directions
1
Follow the method for the Chocolate Chia Cake. Spoon the mixture into pre-prepared muffins tins and bake for 20-25 minutes or until cooked through and golden.
2
Remove from the oven and allow them to cool until room temperature.
3
Meanwhile add all the ganache ingredients to a small saucepan and heat on low until melted, stir to combine.
4
Pour the ganache on top of the muffins straight away or allow the ganache to cool down in the fridge until it has hardened slightly, this will allow you to spread it over the top of the muffins. If the ganache has set too hard, then take it out of the fridge and allow it to come back to almost room temperature and use a hand blender or whisk to re-blend into a gorgeous thick, yet silky smooth ganache that will be really easily to spread on top of each muffin.
5
Decorate with fresh berries and enjoy immediately.
6
Store the rest in the fridge in an airtight container.