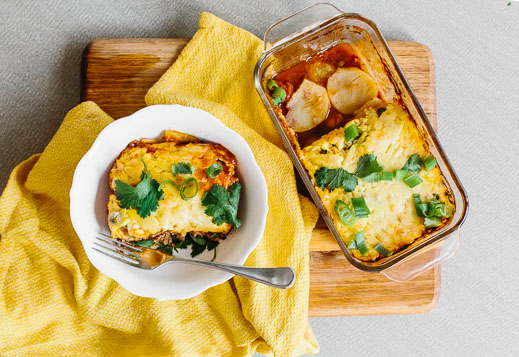 Prep Time10 mins
Cook Time40 mins
Total Time50 mins
Ingredients
5-7 small-medium sized potatoes, peeled and thinly sliced
1/2 large onion, thinly sliced
400g organic mince (we used beef)
Handful of basil, chopped
200g (1/2 can) italian diced tomatoes (it should be tomatoes and herbs only)
2-3 cups quality cheddar cheese, grated
Fresh herbs to garnish with
Directions
1
Preheat the oven to 180C.
2
In a small bowl, mix the salt, pepper, turmeric, diced tomatoes and garlic.
3
Add half of the sliced potatoes to a loaf sized oven proof dish and create an even layer on the bottom of the dish.
4
Sprinkle the onion over the top of potato layer.
5
Spread the mince over the top of the onion layer, then sprinkle the basil on top of the mince evenly.
6
Sprinkle a handful or two of cheese on top.
7
Spread the tomato/ spice sauce on top of this and then add the rest of the potato layering them evenly.
8
Now sprinkle the remaining cheese on top which will be the final layer.
9
Use your hand to gently push everything downwards so it is compacted a bit more.
10
Place the dish in the oven to bake for roughly 40 minutes or until everything is cooked through and golden brown.
11
Serve with a side salad and garnish with fresh herbs.