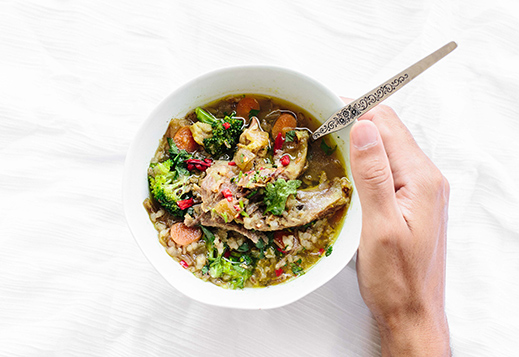 Prep Time5 mins
Cook Time2 hrs
Total Time2 hrs 5 mins
Ingredients
Directions
1
Heat a heavy-based frying pan over a medium heat.
2
Add the brown rice and fry this until it's a dark golden brown colour and fragrant. Make sure you stir it every few minutes to stop it from burning.
3
When the rice is nice and golden brown, add it to a large saucepan.
4
Add the 8 cups of water and salt to the saucepan and bring it to the boil. Turn the heat down to a low simmer.
5
Allow the rice to soak up all of the water (this will take roughly 1 - 1 1/2 hours)
6
Taste the rice and make sure it's cooked. If it is, remove it from the heat.
7
A savoury suggested serving; add slow-cooked meat, broth, cooked veggies such as carrot, onion, garlic, broccoli and fresh herbs and/ or a poached egg.