Looking for a healthy Chocolate treat this Easter! Try this delicious Rocky Road Easter Egg recipe made from whole ingredients without all the nasties! A favourite for kids as well as adults... Thanks to Jo from Quirky Cooking for her fabulous marshmallow recipe that we added to this recipe! Quirky Cooking's Easy Marshmallow Recipe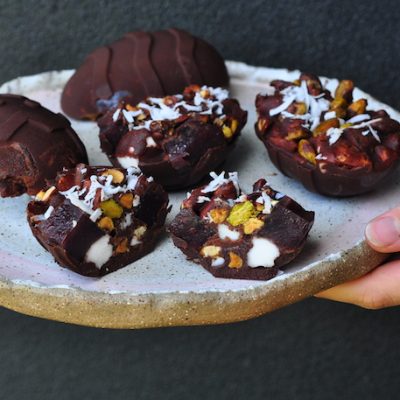 Ingredients
Blueberry Jelly Ingredients
Marshmallow Ingredients (from Quirky Cooking)
200
g
Hum Honey (can be reduced if you prefer)
1/2 tsp vanilla powder (or 1 tsp organic vanilla essence)
Chocolate Ingredients
5
tbsp
Hum Honey (or adjust to your own taste)
Extra Ingredients
1/2 cup Roasted Pistachios
Directions
Blueberry Jelly Method
1
Add the blueberries and 2 cups water into your blender or thermomix until completely lump free. This may take a minute or so.
2
Now add all ingredients to a small saucepan and heat on low until the gelatin has dissolved completely.
3
Pour the jelly mix into a lined container and place it in the fridge to set.
Marshmallow Method
4
Grease a 20 x 20 cm dish with a little oil (I use coconut oil), and line with unbleached parchment paper. Leave some paper sticking up above sides so it's easy to pull out once set.
5
Place 1/2 a cup of the water into a medium bowl (or in the bowl of a mixer), and sprinkle the gelatine over the water. Set aside to soften.
6
In a small saucepan, place honey, salt, and the remaining 1/2 cup of water. Heat over medium heat, stirring. Using a candy thermometer, bring the mixture to 115C. (Or you can test it by dribbling a little of the liquid into a cup of cold water, and it's ready when it forms little soft balls in the cool water.) It will take about 7-8 minutes to reach this temperature. Remove from heat.
7
Using a hand mixer or stand mixer on low speed, begin mixing the gelatine and water mixture. Very slowly drizzle the hot syrup into the gelatine mixture, drizzling it down the inside of the bowl.
8
Once it's all combined, add the vanilla and increase speed to high. Beat for 12-15 minutes, or until the mixture is thick and fluffy, and peaks like beaten egg whites when mixer attachment is lifted out. (The main reason marshmallows separate or are very dense is because they haven't had enough air whisked into them - so make sure they're well whisked!)
9
Transfer the marshmallow to the lined dish, scraping from the bowl with a silicon spatula.
10
Place into fridge uncovered for at least 1 hour (preferably longer), until set very firm. You might have to hide it at the back so curious fingers don't get into it! (Note: I say 1 hour because I know you can't wait to try them, but they are actually best after a few hours or overnight in the fridge, as they dry out a little more and are easier to cut up.)
11
Pull paper up to remove marshmallow from dish. Cut into small pieces using kitchen scissors, and place them onto a tray to dry out until ready to assemble.
Chocolate Method
13
Add all the ingredients into a small saucepan and melt on a low heat until completely melted.
14
Allow to cool to room temperature.
Assembling the Rocky Road Eggs
15
Slice your set jelly into small squares and put it into a bowl.
16
Place your cut up marshmallow into a separate bowl.
17
Combine your nuts and shredded coconut into a separate bowl.
18
Pour your 'room temperature' chocolate into your easter egg moulds.
19
Add in your marshmallow, jelly, nuts and coconut into your moulds, being generous with your filling.
20
Very gently pour some of the melted chocolate over the top of each of the mould. You can use a small spoon to gently mix he ingredients into the chocolate if needed.
21
Place them in the fridge to set completely. Enjoy!
22
Please note - if you don't have Easter egg moulds, simply add all of your chopped jelly, marshmallow, roasted nuts/ seeds and coconut to a lined container and then pour the chocolate over the ingredients. You can use a spoon to mix the ingredients into the chocolate if needed.