Such a quick and easy dinner option.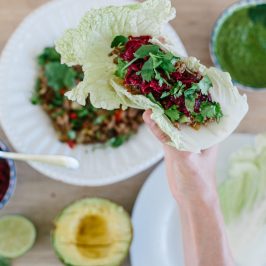 Prep Time10 mins
Cook Time10 mins
Total Time20 mins
Ingredients
1/2 - 1 red chilli, finely chopped
2 cloves of garlic, chopped
500g mince (pork, lamb, beef or chicken)
A handful of chopped coriander
3 tsp freshly grated ginger
Directions
1
Add the onion, shallots and a bit of coconut oil to a large sauce pan and fry until golden.
2
Add the mince, chilli and garlic and fry until golden.
3
Add the rest of the ingredients and mix together until combined.
4
Taste the mixture and adjust if needed.
5
Remove from the heat and scoop the mixture into a bowl while you get the other ingredients ready.
6
In a small bowl put some cultured veggies into it, in another put some sliced avocado, in another some chopped coriander and in another your large wombok or lettuce leaves and another the cultured coriander & garlic sauce.
8
This does get messy so it's a good idea to have some paper towel on hand.