Such a simple and quick recipe to whip up, and not to mention tasty. This is a really easy way to begin introducing more probiotics into your diet, and if you have kids, their diet too. If you don't have strawberries available to you, try using any seasonal fruit you have access too, whether its mango, kiwi-fruit or delicious ripe bananas or stone fruit, they will all taste delicious.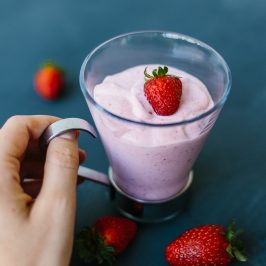 Ingredients
1/2 - 1 cup spray free strawberries
1 1/2 - 2 cups Kultured WellnessCoconut Yoghurt (or use half KW coconut yoghurt and 1/2 coconut cream if you have never used this culture before)
Optional Add Ins: fresh berries to mix through, vanilla powder or essence, sweetener to taste once the yoghurt has fermented - we used a couple drops of liquid stevia or you could use pure maple syrup or raw honey)
Directions
1
Add the strawberries and Kultured Wellness coconut yoghurt and coconut cream if doing a mixture to a blender or thermomix and blitz until well combined and smooth.
2
Optional Step: pour the mix through a fine mesh sieve to remove any of the strawberry seeds.
3
Pour into a glass bottle and allow the mixture to ferment on the bench for 4-10 hours.
4
When ready to serve scoop or pour into bowls and mix through fresh berries and a touch of sweetener if desired, or have plain as is.