Have you ever noticed something called 'xanthan gum' listed as an ingredient on the products you buy? It is found in foods such as ice cream, gluten-free baked goods, custard and even salad dressings.
But what is xanthan gum and should we eat it or avoid it? Here's the lowdown.
What Exactly is Xanthan Gum?
Xanthan gum pronounced "zanthan gum", is an indigestible carbohydrate that is used as a food additive as it improves the shelf life, texture, consistency, flavour and appearance of many foods.
How is Xanthan Gum Made?
It's created by fermenting a sugar-containing medium that is often derived from either corn, soy, dairy, or wheat. That medium is then fermented by a bacteria called xanthomonas campestris. It's the same bacteria that creates black spots (mould) on broccoli and cauliflower. The by-product of this bacterial fermentation is then refined, purified, dried and powdered, and sold as a white powder called xanthan gum.
Please note: I suggest people with an allergy to corn, soy, wheat, or dairy avoid xanthan gum entirely or contact the manufacturer directly to see what medium has been used and how it's produced.
What Does Xanthan Gum Do?
Xanthan gum is used as a thickening and stabilising agent in food, medicines and toothpaste. It helps to blend ingredients more effectively in certain products like beverages. It also smooths the texture of sauces and gravies and prevents ice crystals from forming in ice cream. It's a key ingredient in many gluten-free baked goods because it gives them a texture similar to wheat-based products.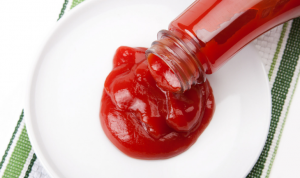 Xanthan gum can also be used for lowering blood sugar in people with diabetes, as a bulking agent in laxatives, protein powders and some medications, and can also be used as a saliva substitute in people with dry mouth (Sjogren's syndrome).
Where Can You Find Xanthan Gum?
Salad dressings
Cosmetics
Jams
Sauces and gravies
Bakery products
Fruit juices
Soups
Ice-cream
Syrups
Chewing gum
Gluten-free products
Low-fat foods
Toothpaste
Fungicides, herbicides and insecticides
Tile, grout, oven and toilet bowl cleaners
Paints
Protein powders
Adhesives like wallpaper glue.
Are There Any Safety Concerns?
It appears that there have been very few studies conducted on humans about the safety of xanthan gum according to the research provided by Chris Kresser. This study found that dietary emulsifiers can cause low-grade inflammation, as well as altered mouse gut bacteria promoting ulcerative colitis and metabolic syndrome. 
I also came across a warning here which suggests avoiding xanthan gum if you have any of these conditions: nausea, vomiting, appendicitis, hard stools that are difficult to expel (faecal impaction), narrowing or blockage of the intestine and undiagnosed stomach pain or if you are pregnant. 
Additionally, in many of my client's cases I have observed that xanthan gum can cause side effects such as flatulence, bloating and stomach pain (probably from gas build up), diarrhoea and flu-like symptoms.
Whether or not you choose to avoid xanthum gum is completely up to you, but I hope you have found this blog useful. If there is a particular additive you would like me to look into for you, let me know in the comments below.
References