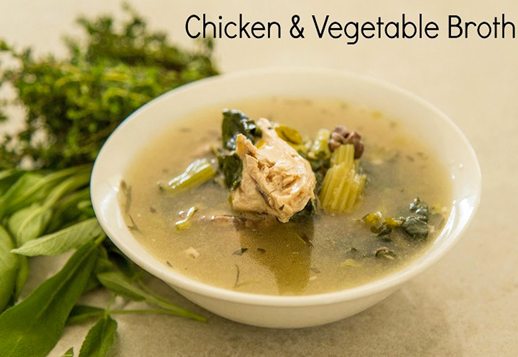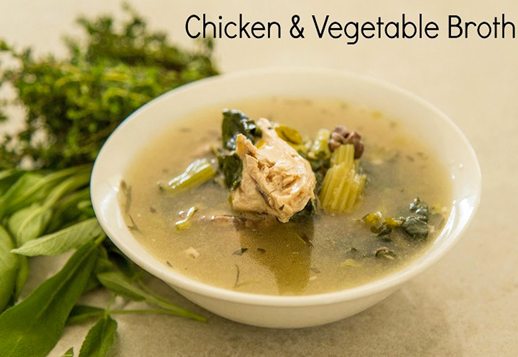 Chicken and Vegetable Bone Broth
November 8, 2015
Chicken and Vegetable Bone Broth
0
0
5
0
Let me explain what broth is and why it's so good for you. When you cook meat, bones, bone marrow and connective tissues in filtered water for a few hours you get broth. The flavour, nutrients and minerals from the bones migrate into the water making a wonderfully warming, nourishing and healing broth drink. Broth is packed full of minerals including a rich source of calcium, phosphorus, potassium, sodium, magnesium and sulfur. Bone broth also helps maintain and rebuild the structure of our bodies.
Another nutritional benefit to drinking broth is the gelatin which is leached from the animal bones during the cooking process. Gelatin is incredibly healing for the digestive tract as broth works towards normalizing digestion and makes foods cooked in broth easier to digest. Other benefits of drinking gelatinous rich broth include strengthening hair and nails, reducing, preventing and healing cellulite and wrinkles.
Ingredients
1 whole organic chicken or turkey (turkey adds a beautiful depth of flavour to the broth)
1 Tablespoon apple cider vinegar (ACV)
1 tsp Changing Habits Seaweed Salt
1 tbsp Changing Habits Dulse Flakes
Vegetables of your choice, I add whatever I have at the time (and often reserve veggie scraps for broth) such as carrots, broccoli, cauliflower, zucchini, pumpkin etc…
Garlic to your taste, I like heaps so I usually add a few cloves at the end.
Directions
1Brown the chicken all over in a saucepan large enough for the whole chicken and to cover it in water later on.
2Add the onions and salt, brown slightly in the fat from the chicken.
3Add enough filtered water and ACV to cover the chicken (this may need topping up if it reduces heavily).
4Bring to the boil and then reduce to a gentle simmer with the lid on.
5Cook on a simmer for 3 hours. Once the meat is cooked, take all of the meat off the bones and set aside for later and put in the fridge.
6Add the bones back to the stock and cook the bones for up to 12 hours.
7Once almost ready, strain the broth and remove the bones (I eat the ends of the chicken bones for additional nutrition).
8Put the liquid broth back onto the stove and add your chosen vegetables herbs and spices and cook for 20-30 minutes or until cooked. At this point you can either leave it a chunky textured soup or blend for a smoother consistency.
9In the last 2 minutes, add chopped garlic and the cooked meat from the fridge to re-heat.
10Add additional seaweed salt and/or dulse flakes to taste if needed.
11Serve and enjoy!
Broth is very economical since it can be made from leftover vegetable scraps and bones that you may have discarded previously. Broths are also protein sparing, meaning that by drinking broths, it minimizes the amount of actual meat needed for proper nutrition. Homemade broths nutrition will vary greatly depending on the variety and how many bones are used and which vegetables, herbs and spices are added.
Broths are one of the easiest things to make. All you have to do is put all of the ingredients in a slow cooker or large crock pot and leave it for around 24 hours or 6-8 hours for stock.
0 Reviews