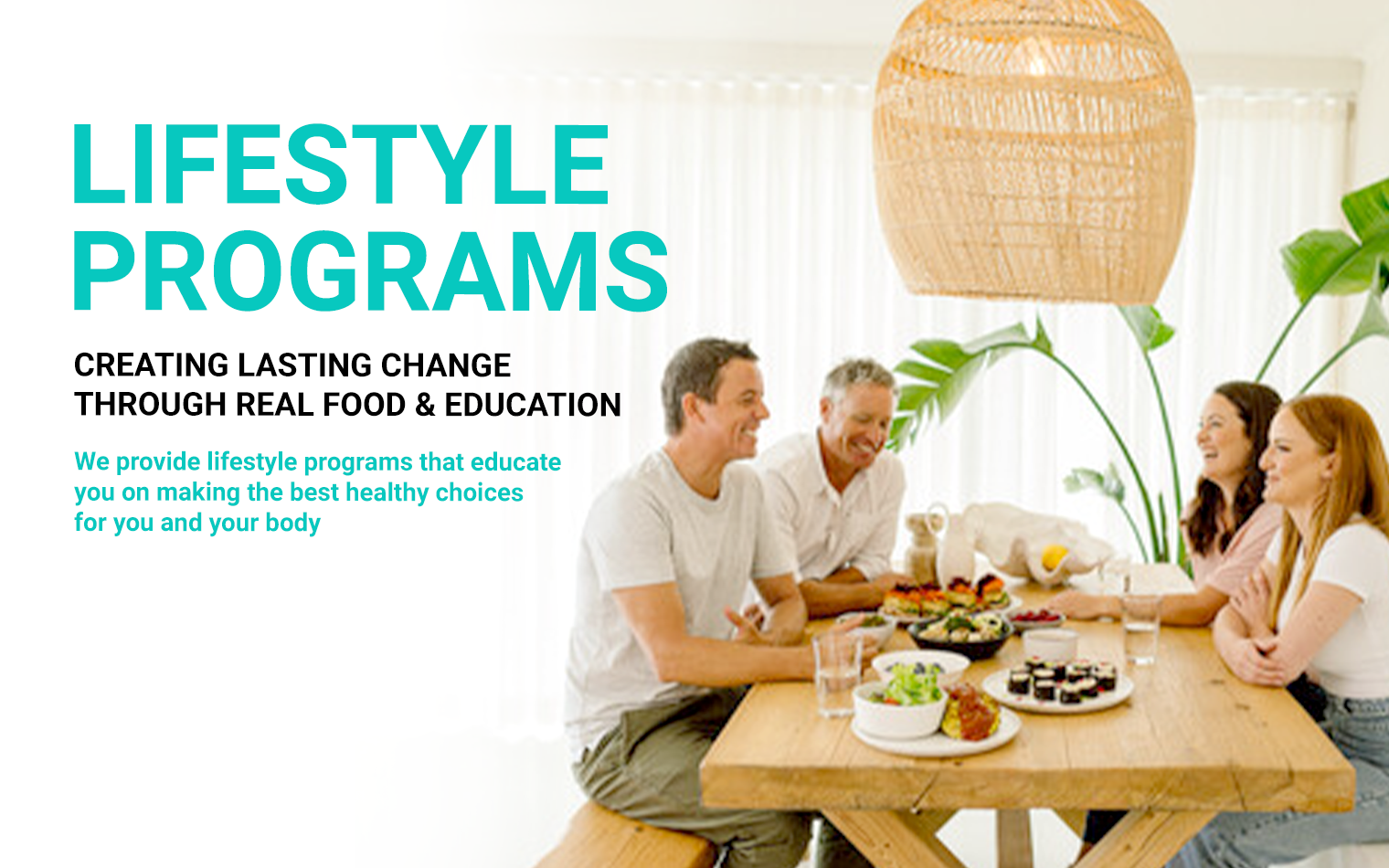 We believe that everything begins and ends – with food!
Educating yourself, and others, to make better food choices, will in turn give you the power to create the healthiest version of you, your family, and future generations.
We provide lifestyle programs that educate you on making the best healthy choices for you and your body. Whether you are just starting out on your own health journey and looking to change the way you eat, you want to lose weight the healthy way, or you need help to maintain your optimum weight, we have something for everyone!
Introduction to Real Food
A first steps to wellness program. If you are ready to make the change to a more health-driven lifestyle, but you're not sure where to begin when it comes to food, the Introduction to Real Food is a great place to start. Our simple five-step self-guided process takes the guesswork out of mastering lifelong healthy habits.
The Fat Loss Protocol
A weight loss program. Lose weight by uncovering the foods that work best for your body, eliminating those that cause inflammation and weight gain. Over four phases, the Fat Loss Protocol will help you to gain an understanding of your body's specific needs, lose weight healthily and increase your energy and wellbeing.
Success Stories
Our Lifestyle programs achieve real results from real people!
The Healthy Keto Way
A peak performance program. The Healthy Keto Way isn't just another ketogenic diet. Unlike many other ketogenic plans that rely on manmade supplements to achieve ketosis, The Healthy Keto Way uses real foods. We help you to discover the foods that work for your body to put you in control of how you eat and feel. It will leave you energised and able to maintain your optimum weight.
Success Stories
See what customers have achieved and learnt through our lifestyle programs.
Other Supporting Material
Lab To Table Book
THE TRUTH ABOUT FOOD | CHANGE THE WAY YOU EAT | STEP-BY-STEP GUIDE
In Lab to Table, Cyndi urges us to stop being lab rats for the food industry as it experiments with countless additives, colours and preservatives. Food companies make money from products that look like food, smell like food and taste like food but are NOT food. She reveals the truth behind the food industry's deceptive marketing practices, teaches us how to heal our bodies by replacing favourite foods with satisfying healthier alternatives, and challenges us to break the cycle of mindless, unhealthy eating.
Easy to read and refer to, the extensively researched Lab to Table is the revised, updated and refreshed version of Cyndi's bestselling book Changing Habits Changing Lives.