This beautiful crispy skinned salmon served with a zesty citrus salad makes for a quick and easy dinner perfect for a hot summer's day.
This recipe is available in the Changing Habits 2020 Recipe Book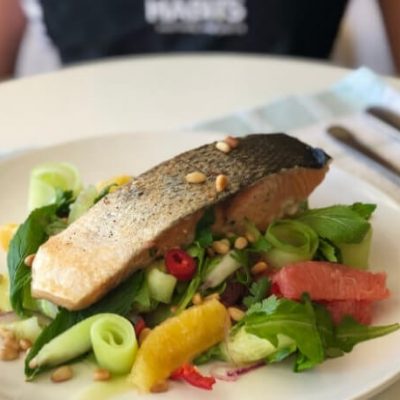 Ingredients
Salmon
2 pieces of salmon (skin attached)
Citrus salad
2 grapefruits (segmented)
Half a Spanish onion, thinly sliced
1 small cucumber (peeled into strips)
1 small handful of coriander
Dressing
1 small knob of grated ginger
Directions
1
Place the pine nuts in a lightly oiled frying pan on a medium heat until they darken slightly, then remove and set aside.
2
Turn the frying pan to a higher heat and add the coconut oil. Then add the salmon skin down and fry for 2 minutes before turning over. Continue to cook until the salmon is cooked through. Set aside to rest.
3
Add the segmented orange, grapefruit and lime into a big bowl with the sliced onion, rocket, coriander, mint, chilli and peeled cucumber and mix well.
4
Mix all dressing ingredients in a small jar and stir well until the sugar has completely dissolved.
5
Put the mixed salad onto two plates, place the salmon on top and sprinkle with pine nuts and dressing to serve.