The easiest and most delicious roast chicken. Perfect with a bunch of steamed or fresh greens, roasted vegetables and generous amounts of home-made gravy!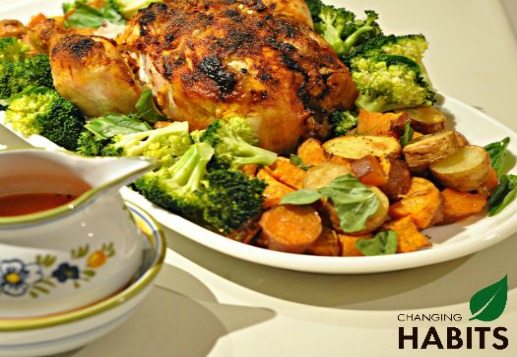 Prep Time20 mins
Cook Time1 hr 20 mins
Total Time1 hr 40 mins
Ingredients
Approximately 1.5 kg whole chicken - free range and preferably organic
Turmeric powder, cumin powder, paprika powder - enough to sprinkle over the whole chicken individually (at least a few tsp's of each)
coconut oil - melted and enough to cover whole chicken
3 garlic cloves - chopped into chunks
Directions
1
Preheat the oven to 240 degrees Celsius
2
Poke holes in the chicken in various places and slot the chopped garlic into the wholes. Pour the coconut oil all over the chicken and smear over with your hands or a brush.
3
Individually, generously sprinkle turmeric over the chicken, then cumin and then paprika. To do this simply and evenly over the chicken, use a sifter and sift the spices over the chicken.Generously sprinkle the salt and pepper over the whole chicken.
4
Prick the lemon (can leave out if you don't have one) and pop the lemon inside the chicken's cavity. Here you can place any chopped vegetables around the chicken if you would like to, though if you want to use the juices from the chicken for a gravy, then put the vegetables in a different tray.
5
Place in the oven on top of baking paper, and then turn the heat down straight away to 200 degrees Celsius and cook for 1hr and 20 min, or until the chicken is cooked all the way through.
6
Use the juices from the chicken to make your gravy, adding extra salt, pepper, some lemon or apple cider vinegar and your choice of thickener. I use grass fed, powdered gelatin - approximately 2 tbsp per cup of liquid.
7
This is one of my go-to favourite meals. It is gorgeously nourishing, especially with an array of vegetables and the gelatin rich gravy. Sometimes I make two, so there is lots for leftovers for lunches.