This White Chocolate Mud Cake will be an absolute favourite with the whole family! A delicious, healthy version of a classic that will impress at any gathering or special occasion.
This recipe is available in the Changing Habits 2020 Recipe Book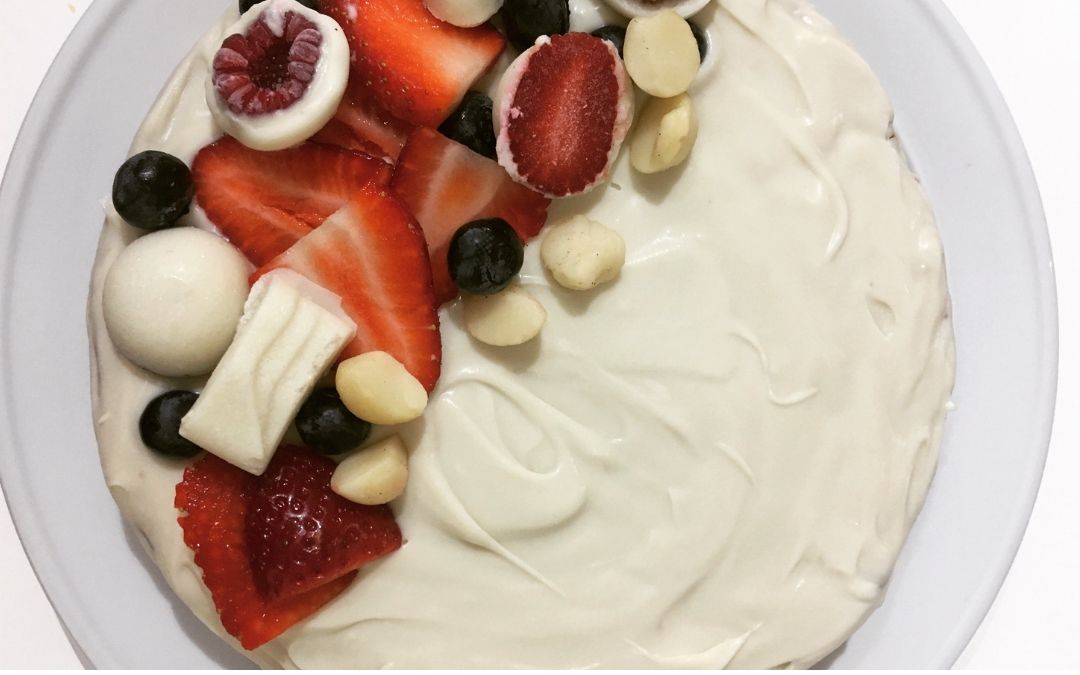 Prep Time30 mins
Cook Time1 hr
Total Time1 hr 30 mins
Ingredients
Cake
200
g
coconut butter (or regular butter)
1/4 cup Cacao butter buttons
White Chocolate Ganache
1/4 cup Cacao butter buttons
Directions
Cake
1
Preheat Oven to 160 degrees Celsius.
2
In a bowl, sift the coconut flour and baking powder.
3
Add the coconut butter, rapadura sugar and cacao butter buttons into a saucepan on medium heat and stir until melted. Set aside to cool.
4
In a separate bowl, whisk the eggs and coconut milk and add the melted cacao butter mixture and stir well. Gradually add the flour while mixing. If the mixture is too thick, add more coconut milk.
5
Transfer the mixture into a lined baking tin and bake for 50 minutes or until a skewer comes out clean. Allow the cake to cool completely in the cake tin before removing.
White Chocolate Ganache
6
Add the coconut oil, honey and cacao butter buttons into a saucepan and heat on a medium heat, stirring continuously until completely melted and smooth. Remove from heat.
7
Scrape the coconut cream from the top of the tin (do not use the liquid) and stir into the cooled mixture.
9
Place the mixture into the fridge, stirring occasionally or until thick enough to ice the cake. It can take up to 30 minutes to thicken, but check consistently as it can sometimes thicken too much if left in the fridge for too long. If it does become too solid it can be returned to a low heat to soften.
10
Ice the cake with the ganache, covering both the top and edges.
11
Once the cake is covered in ganache, place in the refrigerator to set.
12
Garnish with your choice of berries, nuts or extra white chocolate, etc.