A quick and simple bread recipe you can create in under 15 minutes.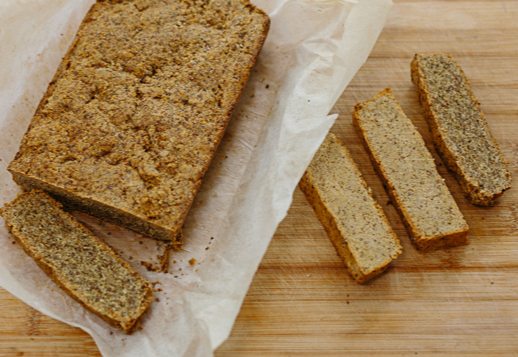 Ingredients
*Can be DF if choosing coconut oil or ghee*
1 1/2 cups Almond or hazelnut meal
1
tsp
apple cider vinegar
Directions
1
Preheat the oven to 180C. Grease and line a small- medium bread loaf tin.
2
Sift together all dry ingredients into a medium bowl.
3
In another bowl blend eggs for 3-5 minutes until frothy and light.
4
Quickly whisk all other wet ingredients into the egg mix.
5
Mix dry ingredients into the wet mixture.
6
Scoop with a spoon or pour the mixture into the lined tin.
7
Optional: you can poke olives, Changing Habits Chia Seeds, sun-dried tomatoes, chopped bacon, fresh herbs, chopped cheese etc. into the loaf now for extra flavour.
9
Allow to cool and serve warm topped with a bit of fresh butter. Or serve toasted with eggs, spinach, mushrooms, cheese etc.