Enjoy our Hot Cross Buns at Easter or any time really.... delicious fresh or toasted with butter. Have you read the ingredients on the store brought buns? Once you do, you will never buy them again and why would you when these buns are just as quick and easy to make as running to the store! Bake a big batch and freeze them.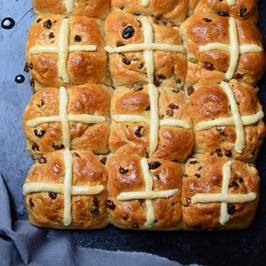 Prep Time30 mins
Cook Time20 mins
Total Time50 mins
Ingredients
For the Buns
4
cups
Changing Habits Emmer Wheat Flour (The buns are quite dense using only Emmer wheat, if you would prefer them less dense then you can do half and half with Organic Unbleached Bakers Flour or flour of your choice)
1
cup
full cream milk or milk or your preference
70
g
butter cut into cubes and left to soften
1/2 cup currants or cranberries
1
tsp
orange, lemon or lime zest (optional
For the X Topping
3/4 cup plain flour (can use emmer wheat but it will affect the colour and X won't stand out as much)
Sugar Glaze
Directions
For the Buns
1
Line a baking tray with baking paper and set aside
2
In a medium saucepan add milk, sugar and yeast and heat on low until sugar dissolves and yeast mixes through
3
In a bowl rub the butter into the flour until crumbly and then add the rest of the dry ingredients except for the dried fruit, (add the zest also if using)
4
Make a well in the middle of the dry ingredients and pour in milk/sugar mixture, combine a little and then add the whisked egg. Mix together until it forms a dough.
5
Tip dough out of bowl onto a floured board or mat and knead the dough with your hands for approximately 5 minutes until you have a smooth dough, add fruit and knead the dough again until all the fruit is evenly combined through
6
Place dough into an oiled bowl and cover with a clean tea towel and leave in a warm place for approximately an hour or until the dough has doubled in size. The dough really needs too double in size otherwise your buns will turn out really dense. If its a cool day, proving can sometimes take longer than the hour.
7
When the dough is ready place onto mat and punch down the dough and divide it into 12 equal balls (more if you would like smaller buns)
8
Place balls close together onto prepared baking tray and leave to rise again while you prepare the mixture for the X's topping
X topping
10
Place flour, salt, oil and milk in a bowl and mix until combined.
11
Pour mixture into a piping bag and pipe crosses on top of all the buns.
Sugar glaze
13
Place water and sugar in small saucepan and heat on medium heat until sugar dissolves
14
Using a pastry brush, apply hot sugar glaze over buns while they are still warm.
15
Allow to cool a little before enjoying them warm with butter!