At my favourite restaurant yesterday, I was served up the most beautiful nasi gorgeng so I thought that I would share this recipe with you all.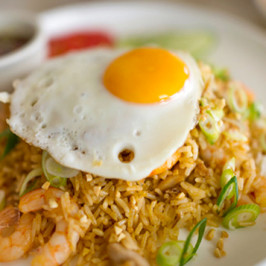 Ingredients
2 cups long-grain rice, rinsed and soaked overnight
2 tbsp tamari or Soy Sauce
1 tbsp homemade sweet chilli sauce
1 brown onion, thinly sliced
1 tsp sambal olek (see note)
3 garlic cloves, finely chopped
1 carrot, peeled, finely chopped
1 small chicken breast fillet, chopped
3 shallots, thinly sliced
1/4 small Chinese cabbage, finely shredded
1 cup chopped almonds, roasted
Thinly sliced red chillies, to serve
Directions
1
Cook rice following absorption method on packet until just tender. Drain. Transfer to a baking tray. Fluff rice with a fork. Cool to room temperature. Cover and refrigerate for 2 hours or until cold.
2
Combine honey, soy sauce and sweet chilli sauce in a jug. Set aside.
3
Heat a wok over high heat until hot, add 2 Tbsp of butter and swirl around to coat. Beat the four eggs and make an omelette. Roll up omelettes and thinly slice crossways.
4
Heat remaining butter in wok over high heat. Add brown onion, sambal olek, garlic, shrimp paste and carrot. Stir-fry for 1 minute or until aromatic.
5
Add chicken. Stir-fry for 2 to 3 minutes or until sealed. Add rice, soy mixture, shallots and cabbage. Stir-fry for 3 to 4 minutes or until rice is heated through. Toss through half the sliced omelette.
6
Spoon nasi goreng onto serving plates. Top with remaining sliced omelette. Sprinkle with chopped almonds. Serve with sliced chillies. яндекс
Note: Sambal oelek, from Indonesia, is made from chopped chillies and vinegar with no other flavourings added. It has a high heat rating, and is available in jars in Asia grocery stores and some supermarkets. Once opened, sambal oelek will keep stored in the fridge indefinately. Make sure that you buy a good quality one.