There is nothing better than healthy, homemade bread... this bread is perfect for breakfast, lunch, dinner or snack and with the added health benefits of our chia seeds!
This delicious bread is based off Tania Hubbard's original Almond Chia Seed Bread Recipe from her brilliant cookbook Abundance. All Changing Habits followers can grab a copy for $10 (RRP $24.95), a special offer Tania put together just for you!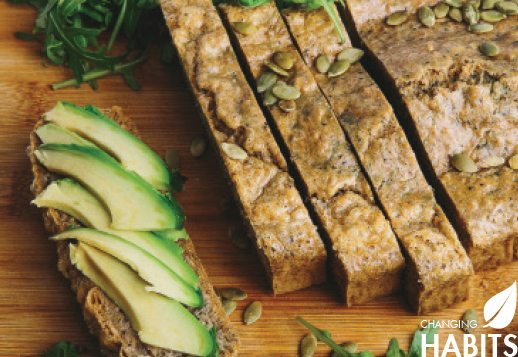 Prep Time20 mins
Cook Time45 mins
Total Time1 hr 5 mins
Ingredients
GF, DF, NF, GrF
2
cups
sunflower seed meal or nut meal of your choice
4
tbsp
apple cider vinegar
1 1/2 cups arrowroot flour
6
organic free range eggs
Directions
1
Preheat the over to 180 degrees C
2
Soak the chia seeds in the water
3
Sift baking soda, salt and arrowroot together. Add nut or seed meal and stir through.
4
Add eggs, soaked chia seeds, vinegar and oil or ghee and combine with a whisk to remove clumps (the mixture will be naturally thicker)
5
Pour the mix into a lined loaf tin and bake for 40 Minutes to 45 Minutes or until golden and cooked through