Sue in the Changing Habits office made these and they were a big hit. If you love Christmas pudding, you will love these mini puds. They're simple, healthy, raw, gluten free, grain free and dairy free plus there's no need to steam it. What a winner!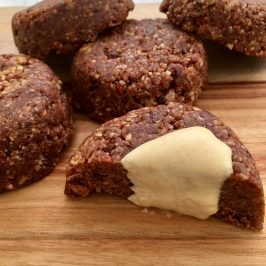 Ingredients
Directions
1
Grind almonds in a food processor
2
Combine all other ingredients until it starts to stick together
3
Add a little bit of water, if the mixture is too dry, until it comes together
4
Place glad wrap in your desired mould (we used ¼ measuring cup).
5
Turn the mould upside down and gradually peel away the glad wrap
6
Repeat steps 4-6 until you've used up all the mixture
7
Arrange on a serving plate until needed
8
Can store in the fridge for a couple of weeks
10
Optional extras-Swap almonds for sesame seeds to make it nut free
Add other spices such as nutmeg, cloves or cardamom
Add in other fruit such as sultanas, raisins or apricots
Mango Custard Directions
11
Blend all ingredients together
12
Pour into a jug and serve