A healthy version of an old favourite. A delicious combination of chocolate, ice cream and caramel, topped with a nut crunch. It is almost hard to believe that it's made from all healthy ingredients!
This recipe is available in the Changing Habits 2020 Recipe Book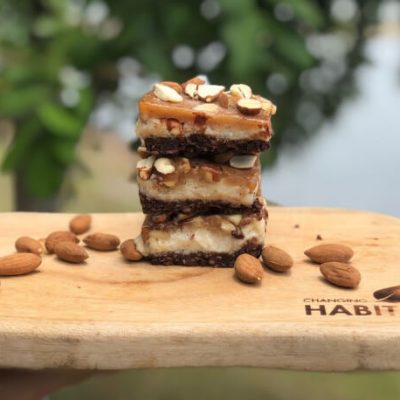 Directions
1
Line a square baking dish with baking paper.
2
Place the base ingredients into a processor or Thermomix and blend until the mixture forms a fine consistency. Press the mixture firmly into the baking dish with the back of a large metal spoon until compacted as much as possible and evenly distributed to form the base. Place the base into the freezer for 10-15 minutes to become firm.
3
Add all of the ingredients for the ice cream layer into a processor or Thermomix at high speed until the mixture is smooth.
4
Pour the ice cream mixture over the base making sure it is evenly distributed and place back in the freezer for an hour.
5
Add all of the caramel ingredients apart from the water and chopped almonds into a food processor or Thermomix. Blend well, slowly adding water until it becomes thick but smooth.
6
Add half of the chopped almonds on top of the ice cream layer and then spread the caramel evenly on top. Top with the rest of the almonds.
7
Place in the freezer to become firm.
8
Slice to serve. Keep in the freezer.
9
**For an extra chocolaty flavour, drizzle melted cacao over the slice before serving.**