This easy salad is a winner in all seasons - super colourful, super nutritious and super tasty!
This recipe is available in the Changing Habits 2020 Recipe Book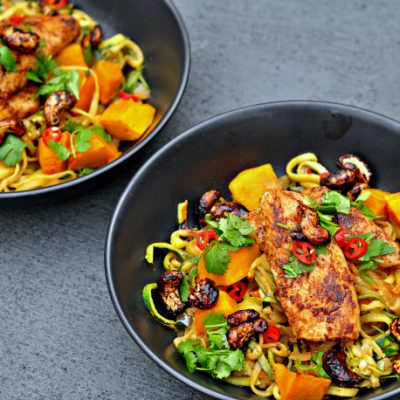 Ingredients
1 small knob of ginger, grated
1/2 cup coriander, washed and chopped (including the stems)
600
g
white, boneless fish of your choice
5-6 zucchinis spiralised (zoodles)
1.5 cups leftover roasted pumpkin (chopped into squares)
3
tbsp
cold pressed, organic sesame oil
Directions
1
Add the cashews, 1/4 cup tamari and coconut oil into a small frying pan and cook on a low-medium heat until the liquid has evaporated and the nuts are crispy.
2
Meanwhile, add the sesame oil, 1/4 cup tamari, onions, chilli, ginger, garlic and coriander to a large frying pan and heat until the ingredients are cooked to your liking. Add the zoodles and stir through until softened and most of the water has evaporated. If there is still a lot of liquid in the pan, remove the zoodles and cooked vegetables and allow the juices to reduce in the pan, then add it to the zoodle mix once reduced slightly.
3
Separate the cooked zoodles into 4 bowls evenly. Then top with the pumpkin pieces.
4
To the same frying pan, add the fish pieces and cook through, try not to overcook it. You can add any seasoning you like here, we sprinkled ours with a bit of turmeric, salt, pepper and chipotle however, plain salt and pepper is yummy too.
5
When the fish is cooked, place the pieces on top of the zoodle bowls evenly, and then drizzle with lime juice.
6
The cashews should be ready now, just sprinkle them over each bowl evenly, with a touch more coriander for garnish and serve straight away. Enjoy!