A quick and yummy slice recipe to whip up in under 5 minutes!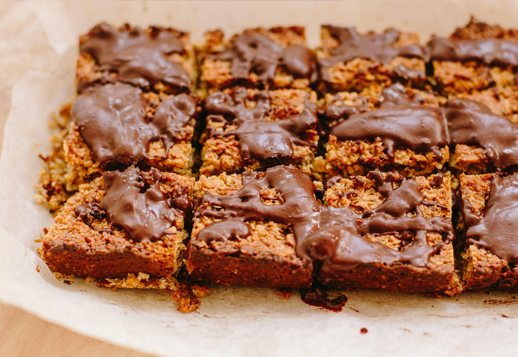 Ingredients
1 1/2 cups GF organic oats
2
tbsp
nut or seed butter
Chocolate Topping
3
tbsp
nut or seed butter
Organic raw honey to taste
Directions
1
Preheat the oven to 180C. Grease and line a slice tray.
2
Add all slice ingredients to a food processor and blitz until combined.
3
Spoon the mixture into a tray evenly (it may be a little wet and sticky) and place in the oven to bake for 25 Minutes to 30 Minutes, or until golden brown and cooked through.
4
Remove from the oven and allow to cool.
5
In a small saucepan on low heat melt the cacao melts and coconut oil together.
6
Once melted completely, remove from the heat and mix through the nut or seed butter and honey to taste.
7
Drizzle the mixture over the top of the slice.
8
Slice into squares and enjoy as is or cold.
9
Store in an airtight container!