A healthier alternative to homemade pizza base. Light and crispy with a slightly nutty flavour. Great with any of your favourite pizza toppings.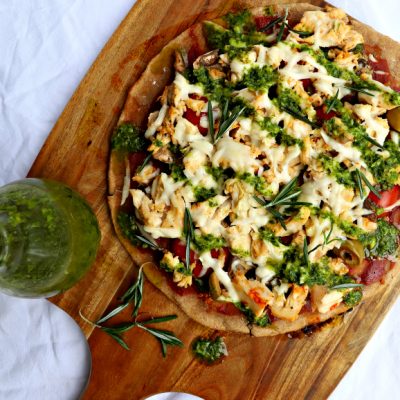 Prep Time20 mins
Cook Time20 mins
Total Time40 mins
Ingredients
1
tbsp
Olive oil plus extra for oiling bowl
Directions
1
Preheat oven to 180c or 160c fan forced.
2
In a bowl stir the yeast and warm water until dissolved and let sit for a few minutes.
3
Mix salt and flour and add wet yeast mixture and add olive oil.
4
Knead until dough ball forms. Add extra flour if dough is still sticky.
5
Shape the dough into a ball and place in a lightly oiled bowl.
6
Cover with plastic wrap and let rise in a warm draft free space for 2 hours or until the dough doubles in size.
7
Punch the air out of the dough and divide into 2 balls. Freeze one ball if both not required.
8
Place the ball/s on a lightly floured surface, roll out with a rolling pin until you reach your desired size. If you find your dough sticking to your board or rolling pin just add a bit more flour.
9
Dust baking tray with a bit of flour. Gently place dough onto baking tray and assemble your pizza beginning with the sauce. Use a spoon to spread sauce, add cheese and other desired toppings. Bake for 15 Minutes to 20 Minutes or until the toppings are cooked to your liking.