A perfect balance of fruit, nut and chocolate, these Florentines will wow your family and friends - and you don't need to tell them how easy they are to put together!
This recipe is available in the Changing Habits 2020 Recipe Book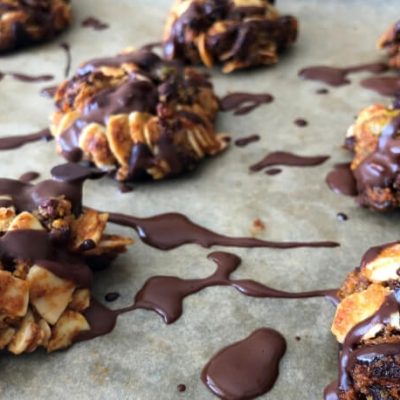 Ingredients
Florentines
2/3 cup thin sliced almonds
Chocolate Base/Drizzle
Directions
1
Preheat oven to 170 degrees and line a baking tray with baking paper.
2
Mix all of the Florentine ingredients together in a bowl, separate into 9 individual balls rolling them with your hands and then flatten on the baking paper to form a circular shape.
3
Place in the oven for 20 minutes or until golden and remove from oven to cool.
4
Place the cacao melts, coconut oil and honey on a very low heat in a pan and stir continuously until completely melted.
5
Once the Florentines have completely cooled, turn them over so that the flat side is facing upward and spoon the melted chocolate onto the base. Refrigerate until the chocolate sets.
6
Remove the Florentines from the fridge and turn them over to drizzle the remaining chocolate over the tops.
7
Store in the refrigerator.