A beautiful, delicious slice that's easy to put together ahead of time for your next dinner party. Raspberry and chocolate go hand-in-hand and the avocado gives this dessert filling its wonderful silky smooth texture.
This recipe is available in the Changing Habits 2020 Recipe Book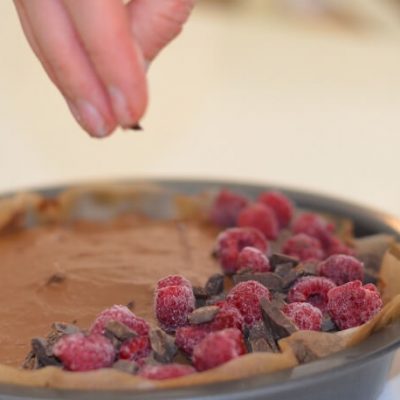 Ingredients
Base
Middle
1 ½ cups frozen raspberries (thawed)
Mousse
Optional
Directions
1
Take the frozen raspberries from the freezer and place in a bowl to thaw.
2
Chop the dates, almonds and cacao melts and add to processor or Thermomix with other base ingredients and process to a fine consistency.
3
Line a round shallow tin with foil or baking paper and add the base ingredients. Spread and push the ingredients with the back of a spoon to create a firm base. Place in the freezer for 20 minutes.
4
Take the base from the freezer and spread the raspberries evenly to cover the whole base and place back in the freezer for 10 minutes.
5
Add mousse ingredients into a processor and blend until you reach a smooth consistency with no lumps.
6
Remove the base and filling from the freezer and add the mousse mixture on top.
7
Place back in the freezer to set.
8
Garnish with more raspberries and cacao chips (optional) and slice to serve!
9
**Keep in the fridge for soft mousse or freezer for a firmer set**