Loaded with goodness and flavour, this Sesame Salmon Poke Bowl makes a satisfying yet simple dinner.
This recipe is available in the Changing Habits 2020 Recipe Book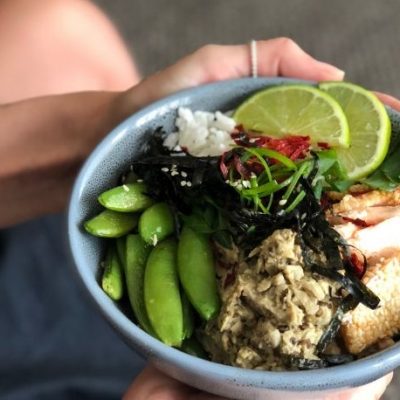 Ingredients
2 salmon fillets (skin off)
Baba Ganoush
Garnish
2 sheets of seaweed (nori)
Directions
1
Preheat oven to 180 degrees Celsius and line a baking tray with baking paper.
2
For the Baba Ganoush cut the eggplant in half and place flat side down on the baking paper. Roast for 45 minutes until soft.
3
Once removed from the oven, scoop the flesh of the eggplant into a bowl and discard the skin.
4
Finely chop the garlic and add to a processor along with the eggplant and the rest of the Baba Ganoush ingredients. Blitz until you reach the desired consistency and set aside.
5
Rinse the rice and place in a pot (or rice cooker) with the coconut milk. Cook until soft and then rinse the rice with boiling water to remove the excess coconut milk and set aside.
6
Turn the hotplate on to a high heat. Coat both sides of the salmon in sesame seeds and place in the pan. Turn the temperature down to a medium heat and cook on both sides until the sesame seeds are golden.
7
When the salmon has cooked, set aside and keep the pan on a medium to high temperature and fry the snow peas for about 2 minutes on each side.
8
Place all ingredients into two bowls and garnish with chilli flakes, seaweed, shallots and lime.
9
Serve with your choice of sauce – sweet chilli or coconut aminos are both great options.