This is a great lunchbox recipe and a great way to get extra green veggies into your children if they are fussy eaters.  Delicious on its own or toasted with melted butter and honey!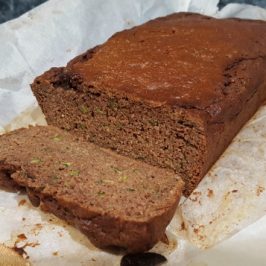 Ingredients
1
tsp
Aluminum free baking powder
150
g
Organic butter, softened or coconut oil can be used for dairy free
1
tsp
Vanilla essence or powder
Directions
1
Preheat oven to 180° or 160° fan forced. Line or grease loaf pan
2
Place grated zucchini in bowl and sprinkle with a pinch of salt. Allow to sit and squeeze all of the excess water out.
3
Melt the butter and honey in a small saucepan on medium heat. Allow to cool.
4
In another bowl combine flour/meal, raw cacao, baking soda, baking powder, salt and cinnamon.
5
Add the eggs to the butter mixture now that it has cooled.
6
Combine the butter mixture to the zucchini and add in the dry ingredients and mix thoroughly until combined.
7
Pour mixture into prepared loaf and pan and bake in the oven for 50-60 Minutes until cooked through.