Every morning my mother would percolate coffee for my father's morning black coffee.
The brewing smell reminds me of my childhood.
I was never invited to drink coffee growing up and on the occasion when I did my heart rate would rise and I would become agitated. It was not a great experience. Therefore, coffee was not a part of my daily ritual. The one time I put up with the increase in heart rate and agitation was when I would get a migraine. Coffee is a powerful vaso dilator (vasoconstriction is a cause of migraines). It worked most times as long as I drank the coffee as soon as my migraine began. And because I didn't like the taste of coffee I would make it a mochachino.
Things Changed.
When I did The Fat Loss Protocol for the first time at the age of 52, I found that herbal tea just didn't cut it, so I began to drink one cup of black coffee a day from my local roaster. I have continued to drink coffee on a daily basis with a few breaks over the last decade. The coffee I chose did not seem to cause agitation and heart rate rise. I assumed my body had adapted to that one coffee a day.
My supply of coffee then became important and I wasn't always near my place of work. Fair trade, organic using filtered water became a priority. I found a coffee shop near my office that ticked all the boxes and I've found a few in my local home area as well.
I learned that genetics played a role in coffee metabolism. There are fast metabolises these are usually people who can drink coffee 5 minutes before bed and are not affected by its waking properties, they also do not absorb as much of the nutritional goodness of the coffee beans, as the slow metabolises who have the ability to take in more nutrition from the coffee bean. These people are like me, one cup is plenty and if I have it early in the morning the coffee does not disturb my sleep cycle.
Yes, there is Nutrition in a cup of coffee; the bean is different in nutrition to the morning coffee pressed from the bean. Depending on the quality of the bean it's likely in one cup of black coffee with nothing added, you will get .3 gram of protein and small amounts of micronutrients, both vitamins, minerals and other phytonutrients. A single serving (1 cup, 250m or 8 ozl) has approximately 240mg potassium, 14.4mg magnesium, 14.2mg of phosphorus, 0.2mg of manganese, 9.4mcg of folate, 1.4mg niacin, .02mg riboflavin, 12.4mg of choline, 10.2mg sodium, 95mg caffeine and of course there is 95% plus water. There are also 1000's of other compounds that make up the nutrition and taste of coffee.
Things that may affect the nutrient content will be water (filtered or not, hard or soft). Variations may also be due to origin, soil health, growing conditions, blend composition and the processing of the coffee. The healthier the soil in ecology and nutrients, the less chemicals used in the growing and processing means higher amounts of nutrient values and lower amounts of agricultural chemicals.
The water content of coffee will contribute to hydration. Despite the myth that coffee causes an imbalance and dehydration effect, this old dated research has been debunked. I talk about it in my book Lab to Table.
Bullet Proof and my good friend Kirsty Wirth from Kultured Wellness have educated me on mycotoxins (mould metabolites) in coffee. I personally do not seem to have an issue with mould sensitivity but I know many people who do so my thought was that if I drank the best coffee I could with nutrition, without chemicals and mycotoxins for not only my lovely social time but my overall health then I would have a winning coffee bean to make my cup of coffee.
Mycotoxins are the metabolites of mould and these metabolites can be toxic, not only to those who are sensitive but others as well. I found out that some of the mycotoxins can cause jitters, increased heart rate, anxiety and even panic attacks. I wonder now whether it was the caffeine that was causing my racing heart when I drank coffee before I sourced a premium bean and coffee, as I do not experience this when I stick to the coffee I now drink. For other people, these mycotoxins can cause immune suppression and neurological symptoms. They may also play a role in cancer, heart disease, depression and diabetes.
Roasting the beans will kill the living mould cells and greatly reduce the mycotoxins, although significant amounts of these toxins remain behind.
My next step with finding the best coffee for myself was to make sure that the agricultural practices were part of regulating bodies including, fair trade, rainforest alliance, mycotoxin free and an organic certifier that I trusted.
It just so happened that my roaster and cuppa coffee barista down the road from my office (there are no coincidences I'm sure I manifested it) had this bean and made a wonderful cup of coffee that did not give me any jitters or racing heart. The only thing that my roaster and importer did not know was whether the coffee was mycotoxin free. My team got a sample and we sent it in to be tested. Not only were we at Changing Habits keen for the result but my roaster was also eager to know the result. We tested for the entire syllabus of mycotoxins and we were happy to confirm to our roaster that the coffee he was serving to his customer was mycotoxin free.
You see my roaster did not even know that such a thing was important, his greatest love was importing and roasting the best coffee that was not only good for humans but for the planet but with a desire and a mission to give a percentage of the profits to child hunger, and today they help with 10,000 meals per month to Ugandan children, and just by coincidence Changing Habits also contributes to a safe house for children abused by the practice of witch doctors in Uganda.
It was a perfect fit that we support each other in our missions. Mine to do the research and find a coffee fit for daily human consumption that not only created health for humans but for the planet and with profits from both our companies supporting children in Uganda.
Now that I've done the research we would like to share this coffee with our customers.
It's my job to do the research so that you know that when you purchase a food from Changing Habits we have ticked all the boxes that are important to our mission. Firstly it must be a real food, grown using regenerative farming practices, it should advance your health not deter from it and it should be part of the solution to a healthier planet earth.
Now let me tell you about this coffee.
The origin of our coffee is from PNG and Colombia.
Colombia
Sol Bohemio S.A.S. is comprised of several existing Colombian coffee estates. Sol Bohemio's goal is to support the rich tradition of coffee production in the region while providing the resources to renovate existing farms for Organic and Rainforest Alliance certification. In the beginning, Sol Bohemio was dedicated to bringing to market the organic coffee of small estates in Palmor, a village in the Sierra Nevada de Santa Marta. The project soon grew in its reach and, in late 2010, Sol Bohemio acquired the Puerto Rico Estate located in the village of San Pedro de la Sierra. The newly created Sol Bohemio estate covers 205 hectares, 95ha. of which were already planted with coffee. The new project, under the guidance and leadership of Dario Delgado, updated the existing coffee production to fit the guidelines of the certifications and to be more sustainable overall. With more than half of the estate now planted, the remaining land is dedicated to pasture (20 ha.) and natural reservoir (57 ha.).
PNG
The Highland Organic Agriculture Cooperative (HOAC) is amongst the oldest Fairtrade Certified organisations in Oceania. Currently consisting of 2,600 members, the cooperative is estimated to directly benefit over 50,000 people in the Eastern Highlands Province of Papua New Guinea.
One of the major concerns for the Fairtrade growers and the local communities in the area around HOAC is poor road access. To address this problem a proportion of HOAC's Fairtrade Premium was allocated to the improvement of the local roads and to cover the cost of the petrol to run the grading machines. The improvement in the road network has bettered access to the market and hence improved business for small coffee farmers, while also allowing better access to education and health services for locals. The maintenance of the roads is done by local residents that live along and near to the roads, providing them with much-needed paid work.
The cooperative has also purchased over 100 individual pulping machines for farmers. These pulpers greatly increase quantity and quality of the farmer's output. HOAC has also recently purchased a disused mill in a neighboring district and has started milling their coffee ready for export. This is providing greater returns for farmers as they move up the supply chain capturing more of the value for processing their coffee.
Education for the next generation is a key concern for the farmers. This is not surprising when you consider that only 50% of Papuans have had three or more years of education. The Okapa region has often been overlooked by the government for basic health and education services due to its remote location. Over the past few years HOAC has been working to rectify this by investing Fairtrade Premiums into purchasing textbooks and desks for community schools as well as building new schools for different communities. To date, HOAC has built 4 permanent elementary schools and teacher accommodation.
Your mission is to make a good cup of coffee and then behind the scenes our mission is to make sure it is not part of the problem to overall health but part of a global solution.
Cyndi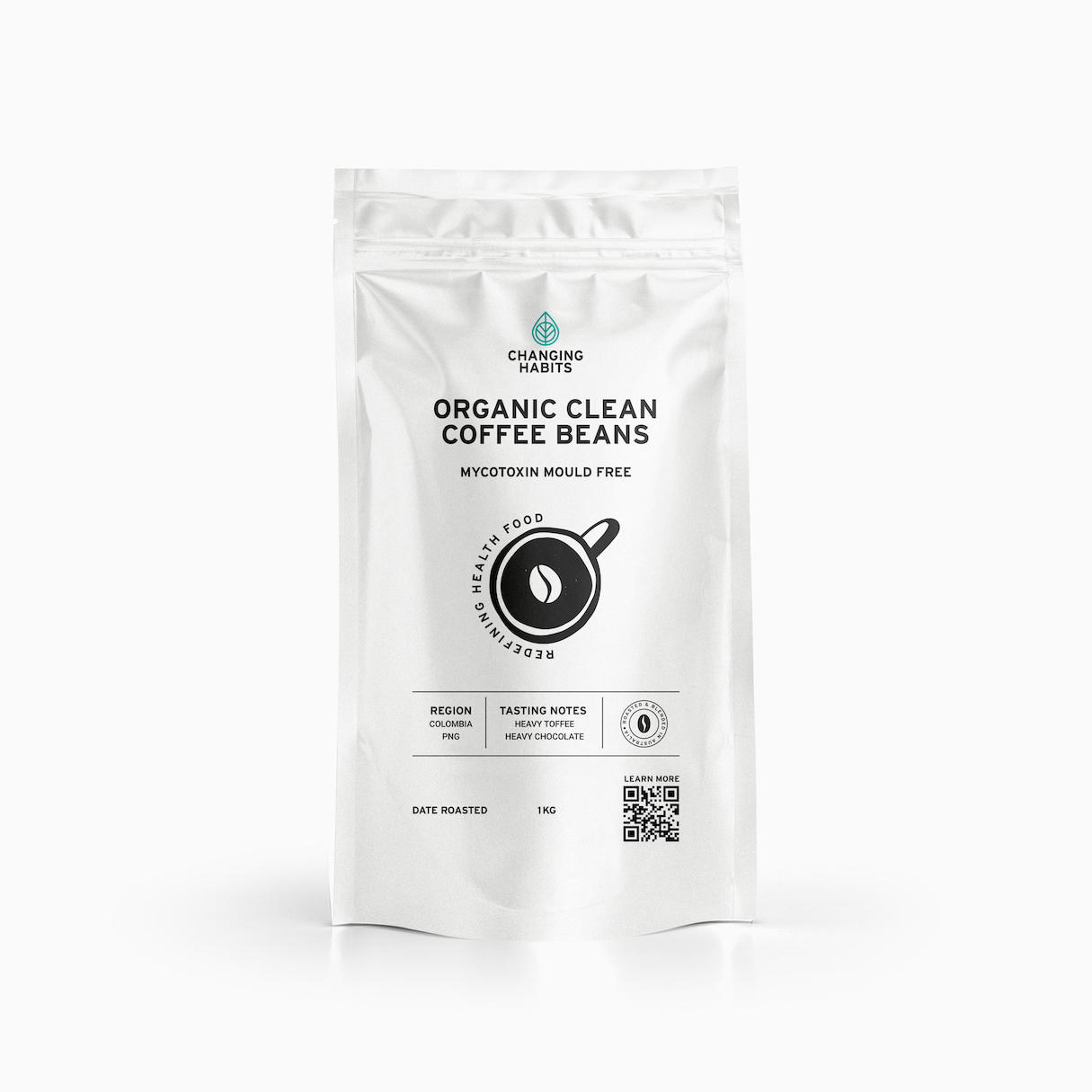 STOCK NOW AVAILABLE

Mycotoxin Mould Free Coffee Beans
Certified, organically grown coffee
Ethically sourced
Available in 1kg, 500g bags
Save up 15% on subscription with your choice of delivery times
Purchase two bags on subscription and receive FREE postage