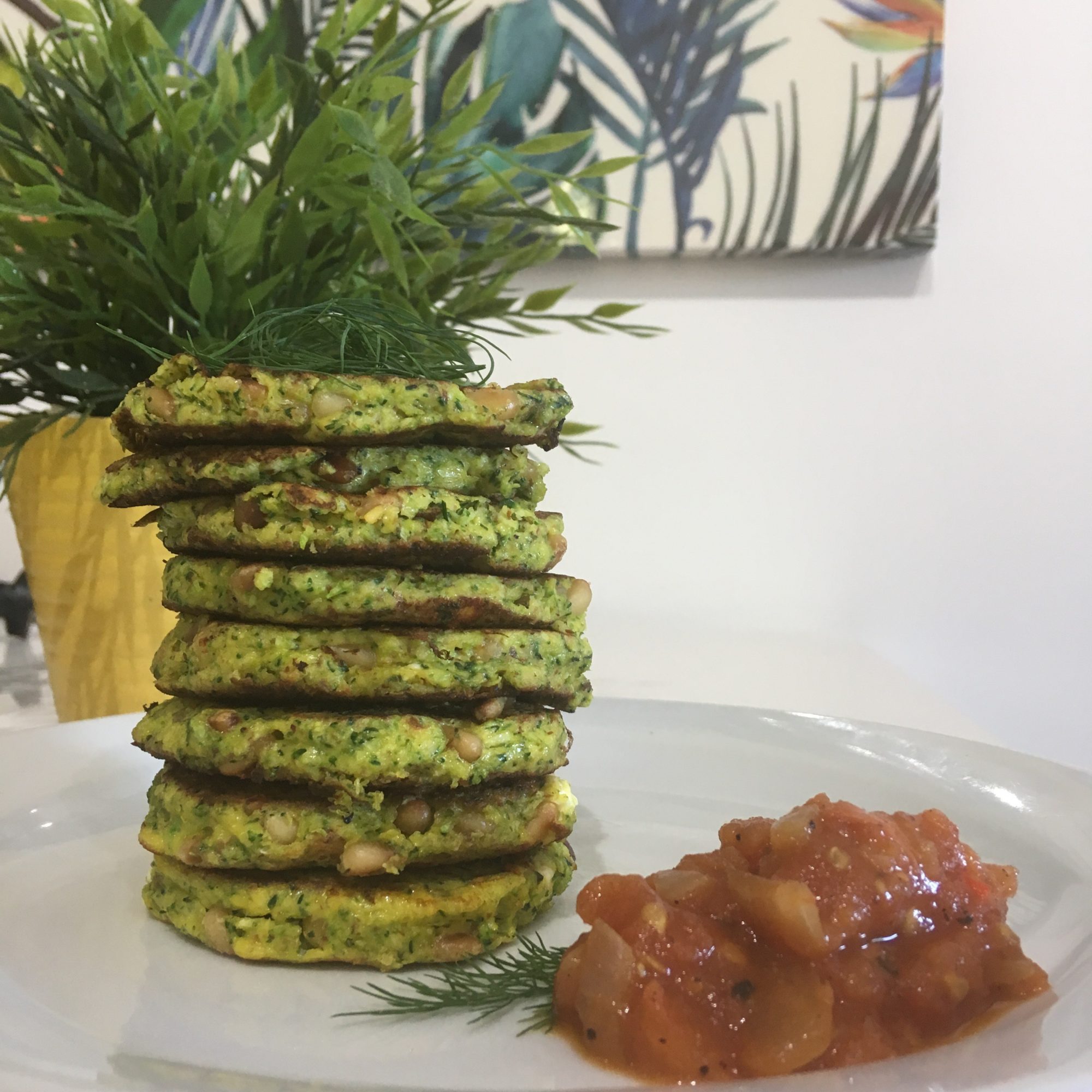 Prep Time30 mins
Cook Time45 mins
Total Time1 hr 15 mins
Ingredients
Fritters
3
tbsp
Dill finely chopped
1/4 cup Goats cheese crumbled
Olive oil (or oil of choice)
Tomato Chutney
4
tbsp
Apple cider vinegar
Directions
Tomato Chutney
1
Heat a large pot of water on a high temperature.
2
Remove the cores from the tomatoes and place in the boiling water. When the skin starts to come off remove the tomatoes from the water and place into a bowl of iced water. Once cooled, remove the skin.
3
Dice the tomatoes and onion and place with all other chutney ingredients in a saucepan over a medium-low heat.
4
Cook uncovered, stirring frequently for approximately 30 minutes or until mixture has thickened.
5
Transfer to an airtight glass container and store in the refrigerator.
Fritters
6
Lightly fry the pine nuts until golden.
7
Cut the heads off the broccoli and either finely chop or blitz in a food processor.
8
Remove the pine nuts from the fry pan and use the pan to lightly fry the broccoli.
9
Whisk the eggs in a bowl and add the almond meal, garlic, salt, pepper and dill to combine.
10
Add the pine nuts, broccoli and goats cheese to the mixture and stir well.
11
Add a tablespoon of olive oil to a fry pan on medium heat. Spoon the mixture into round shapes onto the fry pan and cook until the fritter is easy to flip. Repeat for the remainder of the mixture.