Coconut Chicken Curry and Mango Chutney are a perfect match! Served with rice and our Gluten-Free Naan Bread, this fantastic meal is definitely a crowd pleaser!
This recipe is available in the Changing Habits 2020 Recipe Book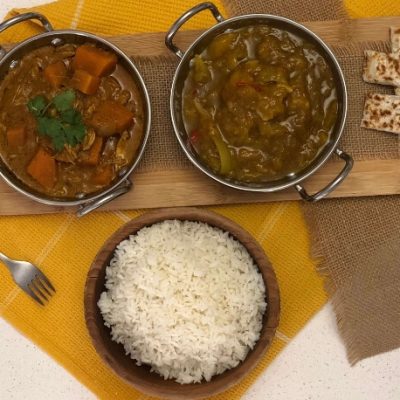 Ingredients
1 large onion, roughly chopped
3
tbsp
organic tomato paste
800
g
chicken thigh fillets
1 small sweet potato, chopped
Mango Chutney
3 medium mangoes, peeled and chopped
1 red chilli, deseeded and finely sliced (optional)
.5 cups apple cider vinegar
1
tbsp
fresh ginger diced
Gluten-Free Naan Bread
3
tbsp
psyllium husk powder
Directions
Coconut Chicken Curry - Slow cooker method
1
Add all ingredients except the sweet potato and coriander into the slow cooker and cook on high for 2 hours, then turn down to a low heat for a further 2 hours. Alternatively, slow cook on a low heat for 8 hours. Add the chopped sweet potato when there is an hour left to go. Garnish with the coriander to serve.
Coconut Chicken Curry - Stove top method
2
Add the coconut oil to a pan on medium heat.
3
Add the onion and crushed garlic and sauté for a few minutes until translucent. Turn the heat down to low and add the tomato paste, coconut cream, lemon juice, salt, pepper and spices and mix well.
4
Turn the heat up to medium and bring the sauce to a simmer. Add the chicken and stir well.
5
Turn back to a low heat and cook covered for at least an hour. Garnish with the coriander to serve.
Mango Chutney
6
Place all ingredients into a large pan and stir on a low heat until the sugar dissolves.
7
Turn up to a medium/high heat and bring to a boil while stirring.
8
Turn down to a low heat and simmer uncovered, stirring occasionally for 2 hours or until the mixture has thickened.
9
Pour the mixture into a hot, air tight glass jar and seal while hot.
Gluten-Free Naan Bread
10
In a large bowl, combine the coconut flour, psyllium husk powder, baking powder, salt, pepper, butter and garlic.
11
Gradually add the hot water and combine until it forms a thick dough-like consistency.
12
Knead the dough with your hands and then let sit in a bowl for 10-15 minutes.
13
Pull apart the dough into balls and place between two sheets of baking paper and roll with a rolling pin until about 5mm thick.
14
Heat a fry pan to a medium/high heat, add some olive oil and then cook each naan bread for a few minutes on each side until brown.