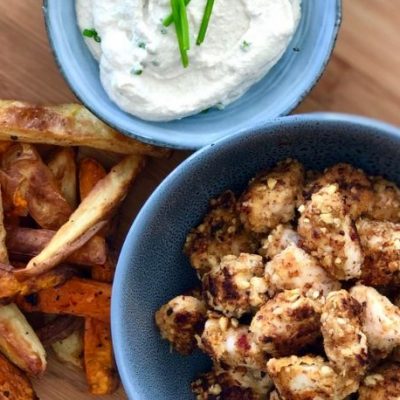 Ingredients
Creamy Cashew and Chives Sauce
1
cup
raw cashews, soaked
Chips
Popcorn chicken
2
large chicken breasts, cut into 1 inch pieces
1/2 cup cashews, processed but still leaving small chunks
1/2 cup dried onion powder
1
tsp
chilli powder/flakes
Directions
Creamy Cashew and Chives Sauce
1
Soak the cashews in boiling water for 1+ hours (or for 4+ hours in room temperature water).
2
Drain the cashews and transfer into a food processor/Thermomix. Keeping the chives aside, add 1/4 cup of the almond milk with the rest of the ingredients and blitz. Add more almond milk if needed until you reach the desired consistency.
3
Transfer the mixture from the processor to a bowl, dice the chives and mix well.
Chips
4
Preheat oven to 200 degrees Celsius.
5
Cut the sweet potato and potatoes into chunky slices and toss in a bowl with olive oil and salt and pepper.
6
Transfer to a baking tray and place in the oven for 20 minutes (turning them over half way). If they are not crispy after 20 minutes, turn the grill on for 2-5 minutes until they crisp up.
Popcorn Chicken
7
Place the diced chicken in a bowl and season well with salt and pepper.
8
In a second bowl whisk the eggs.
9
In a third bowl combine the almond meal, cashews, paprika, onion powder, chilli flakes, garlic powder and mustard powder. Mix well.
10
Heat a fry pan on a medium-high heat and add the oil.
11
Place individual pieces of chicken in the egg and then the almond meal mix, coating well, and set aside on a plate. Repeat with the remaining chicken. In batches, add the chicken pieces to the fry pan and cook until golden on each side and cooked through.