A flavourful, colourful chicken salad that makes a great lunch or dinner, or side salad for a gathering when you're asked to bring a plate.
This recipe is available in the Changing Habits 2020 Recipe Book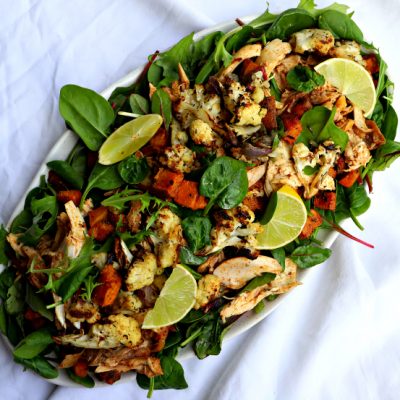 Ingredients
1 medium organic whole chicken
A drizzle of coconut, ghee or olive oil
Roast Veggie Salad
1/2 small head of cauliflower, chopped into florets
1-2 sprigs of rosemary, chopped
2-3 Tbsp melted ghee, coconut or olive oil
Directions
1
Preheat the oven to 200C.
2
Bring the chicken to room temperature.
3
Drizzle the melted oil over the chicken.
4
Sprinkle all the spices, salt and pepper on top of the chicken and use your hands to rub evenly all over the chicken on both sides.
5
Place the chicken on top of a lined baking dish/tray and place it in the oven for 30 minutes. You want the skin to go crispy and golden.
6
Check the chicken after 30 minutes. If the skin is crispy and golden brown turn the oven down to 180C and cook for another 45-60 mins.
7
Add the chopped veggies (sweet potato, cauliflower and pumpkin) and salt, pepper, garlic and rosemary to a bowl. Cover in the melted oil and use your hands to combine everything evenly making sure the veggies are completely covered in oil and herbs.
8
Place the veggies onto a lined oven tray and put them in the oven to roast until golden brown and cooked through (roughly 25-30 minutes depending on your oven).
9
When the veggies are ready, remove them from the oven.
10
Check the chicken - if it's cooked through, remove it from the oven and allow it to rest.
11
Start to pull the chicken away from the bones (when it's cool enough to touch) and shred the chicken.
12
Add the leafy greens to a large bowl or plate and top with the shredded, roasted chicken and veggies. You can also drizzle a little olive oil and lemon juice over the top to taste if you like.