This quiche is packed with great flavours from the pumpkin and cheese and would be a hit when you're next asked to bring a plate!
This recipe is available in the Changing Habits 2020 Recipe Book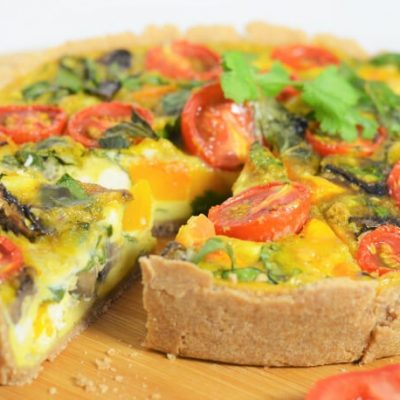 Ingredients
Crust
Filling
150
g
goats cheese or feta
Optional: Small handful of basil to garnish
Directions
1
Chop pumpkin and roast in the oven on 180 degrees Celsius for 40 minutes.
2
Add flour, butter and salt and pepper into a food processor with a small amount of the water. Process and slowly add in more water until it forms one solid ball. Once ball has formed, wrap with a Bee Eco Wrap (https://changinghabits.com.au/product/bee-eco-wraps-5-pack/) and place in the fridge for 20 minutes.
3
Chop all the ingredients for the filling and place together in a large mixing bowl with the eggs, goats cheese and salt and pepper. Stir well.
4
Grease baking tin with butter.
5
Remove crust mixture from the fridge and place between two pieces of baking paper and roll into a large round shape with rolling pin. Press the mixture into the baking tin.
6
Pour the filling mixture straight onto the crust and place in the oven for 50 minutes or until the middle feels firm.
7
Leave to cool in the baking tin for 45 minutes and remove from the tin and rest for a further 15 minutes before placing in the refrigerator.
8
Remove from fridge and slice to serve.
9
Delicious served hot or cold and perfect with a side salad!