This slice did not last long in the office at all! Indulgent chocolate and refreshing mint, this slice makes for the perfect afternoon treat.
This recipe is available in the Changing Habits 2020 Recipe Book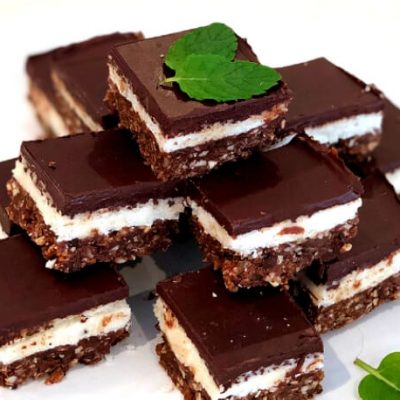 Ingredients
Base
1/3 cup Activated almonds
Filling
7
drops
food grade pure peppermint essential oil
Top
1
tbsp
honey or maple syrup
Directions
1
Chop dates, cacao melts and almonds roughly and then combine with other base ingredients in a Thermomix or food processor until it forms an even consistency (but is not too fine).
2
Prepare container and line with baking paper.
3
Add the blended base ingredients into container and flatten down firmly with the back of a spoon to form an even base and then place in the freezer.
4
Blend the filling ingredients in a Thermomix or food processor.
5
Remove base from the freezer and add the filling ingredients on top of the base layer, with the back of a spoon, pressing firmly and spreading evenly. Place in freezer.
6
Add coconut oil to a pot on a medium heat until it melts and turn the heat down to low. Add the cacao melts and honey (or maple syrup) and stir until it all melts completely and then remove from the heat.
7
Take the container from the freezer and pour the top mixture evenly across the rest of the ingredients and place back into the freezer. Leave for at least an hour.
8
Remove the slice from the freezer and the container. Run a large sharp knife under hot water and dry with a tea towel and cut the slice into even pieces – a heated knife will help stop the chocolate topping from cracking.