I have always struggled with my weight and have been on and off diets my entire adult life.
It was when I realised just how much of a hold my favourite treat had over me that I first started cutting out sugar. I read many books from authors including David Gillespie, William Davis and Robert Lustig and experimented with Paleo and low-carb lifestyles. I lost weight and for a time I was very dedicated, but at some point I slipped back to bad habits.
I have suffered with IBS since my late teens. it was always worse during times of stress or busyness but on the recommendation of my doctor to manage it with anti-diarrhea medication I never addressed the cause, only the symptoms. My IBS became particularly bad after each of my boys was born, to the point that I was tested for Coeliac disease in 2008, not long after my eldest son Cameron was born. This came back negative and so I continued on as I had been – managing the symptoms. When it got really bad, I was prescribed anti-anxiety medication to calm my gut down.
A Heart Attack at 36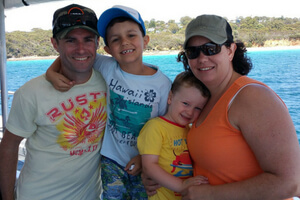 In 2015, I was happily travelling along – I had two young boys, was happily married and planning on building our dream home. We had spent a week at the snow as a family, enjoying our first ski holiday since our honeymoon. I thought my health was good – while I was not at a weight I was happy with, I had been going to the gym and was fit and strong for our ski holiday.
The morning after we got back, however, I suddenly started feeling quite unwell. I was nauseous, hot and sweaty and had difficulty breathing, so I called an ambulance. The paramedics decided to take me to hospital for a check over. Upon arriving in emergency and being attached to an ECG, I was told I was having a heart attack. This was so hard for me to comprehend.
At 36 and generally in good health, I had a spontaneous coronary artery dissection that caused a heart attack.
As you might imagine, this caused a whole lot of disruption to our lives and for many, many months I was not in a good place. I was consumed with anxiety and panic – all the 'what ifs' concerning my boys made it hard for me to get out of my own head. But gradually I did just that. I got some counseling, I found a health coach and signed up for a metaphysics and personal development course that started to change my perception on everything.
My transformation this time was starting from the inside. I felt the heart attack was like a big red stop sign, and I had to choose which way to go…continue on as I had, or change direction. Slowly I turned in a different direction. I changed my poor thought paths (those crazy, wild, naughty little monkeys in my brain) through affirmations and replaced them with more positive ones.
The health coach I worked with also helped change my perception when it came to food. I started more gently this time, without putting too much pressure on myself. I slowly started changing what I ate, choosing local suppliers of good quality food.
One of my biggest wins was coming off all my medications, something I now want to maintain for the rest of my life.
A Natural, Wholefood Approach to Food
Fast-forward to mid-2017 and I felt like my brain and emotional body had done some big leaps and bounds and that I was now ready for my physical body to catch up.
I did a fermentation class with Melinda of Emu Wellness and Cyndi's podcast was one of her suggested listenings. I listened to Cyndi through her podcast, and also as a guest on many other podcasts, I watched her videos, read her book, watched her documentary and cooked meals from her cookbook. I have gained so much knowledge from her insights and years of research.
I am also truly grateful to have come across Cyndi's Up For A Chat podcasts through the Wellness Couch – I feel like Cyndi, along with co-hosts Carren Smith & Kim Morrison, are like my personal cheerleaders, always giving me a little nudge to remember what is important! I listened to a few and then decided that I needed to go back to the beginning to learn more. I'm so glad I did, as that's when I discovered the Fat Loss Protocol.
It took me a few months of researching the Fat Loss Protocol before I decided to jump in, as it sounded quite different to anything I had ever tried before. But what won me over in the end is that it involves only wholefoods, and that it is all natural. There was no comparison to the weird shake diets that I had done before!
I have completed the Fat Loss Protocol twice now and have lost over 25kg. My weight loss is really just the cherry on top of all the other benefits I have gained: my aches and pains that plagued my back have disappeared, my anxiety is minimal and my mood is generally so much more positive and my IBS is under control. Three people I know have decided to do the program just from observing the changes in me, and many more are asking me lots of questions about why and how I am looking so well!
I hope that by implementing all that the Fat Loss Protocol has taught me, my health will continue to improve, and that I am also improving my chances of never having to go through another heart event. 
Healthy Eating Tools for Life
The only time that my symptoms reappear is when I have allowed myself to eat foods that do not work for me, like recently when we went on holidays and I had some treats. I can see these times for what they are now, a great learning tool for me – and I try not to be too hard on myself. When my symptoms reappear, it is a big incentive for me to stay on track.
The tools that the Fat Loss Protocol has given me will be with me for life now. I know I will continue to have to work to change a lifetime of habits, but my reasons for sticking with it are now more important and obvious to me.
My intention going forward is to learn even more from Cyndi. I will be enrolling in the Functional Nutrition Course and the learning will continue. I'm not sure where this is going to lead me but I know it is the right next step for me and I am truly looking forward to it!