This delicious Paleo Seedy Bread has a great texture and is very versatile - it's great served with eggs or simply butter or avocado.
This recipe is available in the Changing Habits 2020 Recipe Book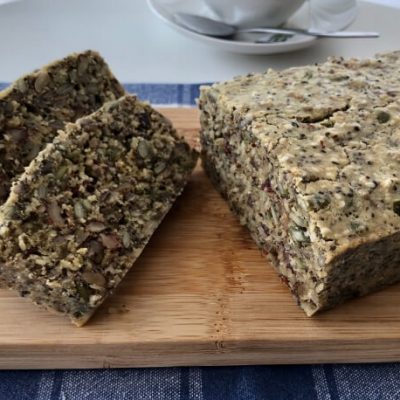 Ingredients
1/4 cup activated almonds
1/2 cup activated sunflower seeds
1/2 cup activated pepitas
Directions
1
Preheat oven to 180 degrees Celsius.
2
Roughly chop almonds and walnuts and add them and all other dry ingredients into a large bowl and mix well.
3
Whisk the eggs into a separate bowl and stir in the coconut oil.
4
Gradually add the egg mixture in with the dry ingredients while stirring.
5
Line a bread tin with baking paper.
6
Bake in the oven for 45 minutes or until lightly golden on top.
7
Delicious with butter and/or avocado!