For those adventurous souls planning a road trip over the holidays, Bella from Me & My Travel Bugs shares her favourite travel-friendly granola bar recipe. Preparing your own snacks goes a long way to helping you stay healthy on the road, and is one of Bella's top tips for better travels:
Make your own snacks – with most snack foods in the supermarket limited to overpriced packaged foods loaded with sneaky not-so-good-for-you ingredients, baking up a storm before you leave can be better for both your health and wallet. Recipes like these Granola Bars (below) are a great place to start.
Eat lots of healthy fats and protein to stay satiated when snacking – carbohydrates are a great short-term energy boost but they don't last long before we start to get hungry again. Protein and healthy fats from oils, nuts and seeds on the other hand help us regulate our hormones and blood sugar levels better so we stay satiated for longer. Granola bars are a brilliant way to load up on protein and healthy fats.
Don't forget about main meals – while it can be tempting to embrace the convenience of snacks on a road trip, don't forget about the importance of your three main meals for getting lots of protein, healthy fats and carbohydrate from fruit, vegetables, grains and legumes. Save the snacks for when you find yourself in the middle of nowhere and in need of a pick-me-up.
Stay hydrated – did you know that thirst can feel a lot like hunger? If you don't drink enough water on a sunny summer road trip, you might find your snack pile dwindling faster than expected.
Relax – stress is no good for our digestion or health so make sure you take some time to relax, enjoy the escape and let the idea of food perfection go. All you can do is make the best choices in whatever situation you find yourself – you're on holiday after all!
Wishing you all happy, healthy travels this Christmas!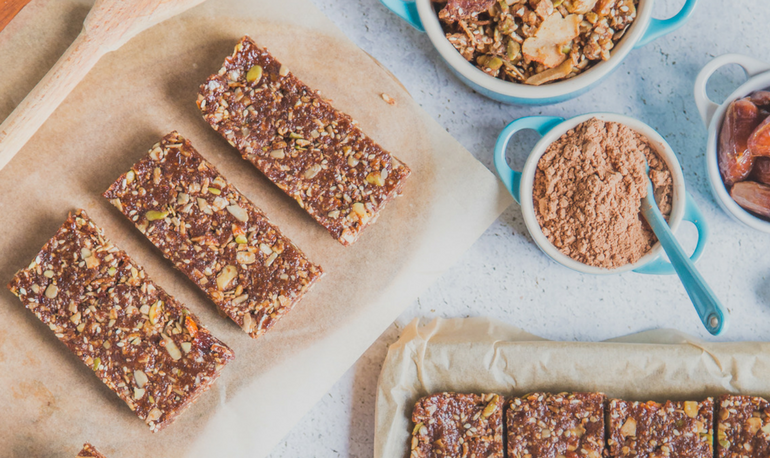 Granola Bars
Makes 12
Ingredients
Method
Line a 28cm x 18cm baking pan with baking paper.
Add all ingredients to a blender or food processor and blitz to combine.
Press the mixture into the lined baking pan evenly.
Place it in the fridge or freezer to set.
When it's ready, slice into 12 rectangle bars, wrap in a little greaseproof paper and enjoy.
Bella Lindemann