Do you feel as though you're stuck in a breakfast rut? Are you eating the same breakfast day in and day out? The breakfast habit seems to be one of the hardest to change, as it's so ingrained into your morning routine. Most people consume cereal, toast and coffee or tea for breakfast which is the absolute worst thing you can eat to start your day off with. You can read more about why consuming this type of breakfast will not provide the best start to your day here.
By having a good quality breakfast, it will set your body up for the day ahead. By taking a low carb approach, consuming quality protein and fats for breakfast (lunch and dinner), it will help to stabilise your blood sugar levels, keep you satiated for longer, engages your brain, helps your focus, mood and motivation for the rest of the day as well as helping to reduce sugar and carbohydrate cravings. You won't need to snack anymore because this way of eating gets your blood sugar rhythm right back on track.
If you want to kick-start your day and have plenty of energy all day long, you need to eat the right kinds of foods, not just any old thing. Here are 10 healthy low-carb breakfast recipes that are easy to make and absolutely delicious too.
SMOKED SALMON EGG STUFFED AVOCADOS By Fresh Planet Flavour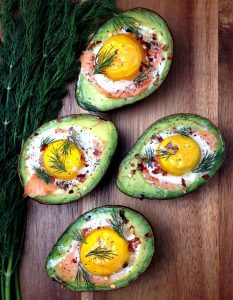 This looks absolutely divine. The ingredients include; avocado, salmon, eggs, salt pepper, chilli and dill, it's as simple as that. Click here for the recipe.
2. BASIL & VEGGIE FRITTERS By Changing Habits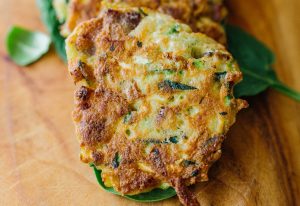 If you're pushed for time and need to create a healthy breakfast (or meal) that is super easy, quick, tasty and nourishing then these fritters are perfect. Fritters are so versatile as the flavour can be adjusted by adding herbs, spices, tomato, fetta or smoked salmon. I also love topping these fritters with fresh slices of avocado, salt and pepper. Click here for the recipe
3. 1-2-3 BREAD (GLUTEN & DAIRY FREE) By Elviira from Low-Carb, So Simple!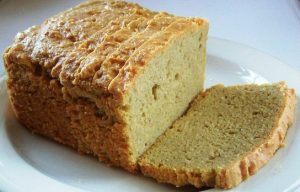 A bread recipe that only contains 3 ingredients, I cannot wait to try this one. This recipe looks incredibly simple and very versatile. For a savoury version, you can top it with fried tomatoes, onion, herbs, egg and avocado or for a sweet version, simply add butter and homemade jam. Click here for the recipe
4. GOLDEN CAULIFLOWER & CRISPY BACON HASH By Changing Habits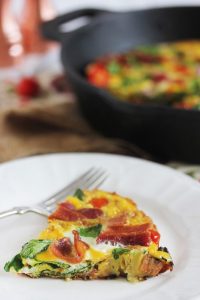 If you're looking to add more vegetables into your diet, this is the perfect breakfast. Click here for the recipe. You could easily add in more fresh herbs, shallots, spices, chopped tomato or mushrooms to increase your veggie intake that little bit more too.
5. SWEET POTATO BLT FRITTATA By Lexi's Clean Kitchen  
This is the type of breakfast you can make towards the end of the week when you're trying to use up those leftover vegetables and the last of your eggs. It can also double as a lunch or a light dinner. Click here for the recipe.
6. OVERNIGHT CHOC COCONUT CHIA PUDDING By Changing Habits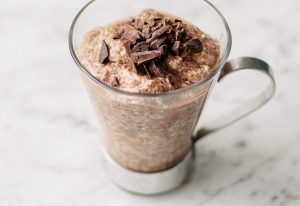 We love chia puddings, because they're very versatile as you can add in any seasonal fruits, cacao, vanilla, turmeric, greens powder and other beautiful wholefood supplements. They're so quick and easy to make and this one can be made the night before, which is great for those times where you have to rush out the door in the morning. Click here for the recipe.
7. SKILLET BAKED EGGS with SPINACH, YOGHURT & CHILLI OIL Recipe by bon appetit & Photo by Jonathan Lovekin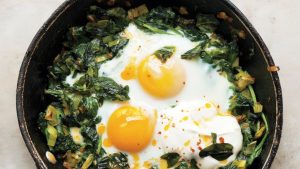 This is taking an eggy breakfast to a different realm by flavouring it with spinach, caramelised leeks and shallots. It's then finished off with a generous dollop of yoghurt and a drizzle of butter spiced with a smoky Turkish chili powder (crushed chilli flakes will also work). Click here for the recipe.
8. 'OAT FREE' PALEO OATMEAL – Made with Coconut By Lauren from Empowered Sustenance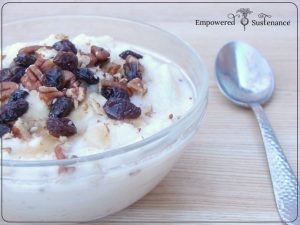 Lauren has out-done herself with this beautiful, warming nourishing bowl of 'oat-free oatmeal'. She says "The texture of this paleo oatmeal is softer and less "chewy" than true oatmeal, but I feel like it is a delicious and healthy substitute. Feel free to adorn this faux-oatmeal with your favourite toppings, such as maple syrup, butter or coconut oil, dried fruit, and chopped nuts."  I think a few organic raspberries would also be delicious mixed through this recipe. If you want to try this recipe for yourself, simply click here.
9. FLUFFY LEMON PALEO PANCAKES with BLUEBERRIES By Changing Habits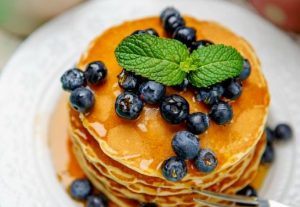 This is a beautiful and simple pancake recipe that the whole family will love. These are GF, DF, GrF, NF and Paleo. You can also try making them into smaller pancakes which makes a beautiful snack. Click here for the recipe.
10. BRUSSEL SPROUTS HASH with EGGS By Shaina Olmanson from Food For My Family               
This is a beautiful recipe that combines Brussel sprouts, bacon and eggs together to make a nutritious breakfast. Click here for the recipe.
So there you have it, 10 Healthy Low Carb Breakfast Ideas that are simple to make, taste delicious and will help you get out of your breakfast rut.
Jordan Pie – Nutritionist & GAPS Practitioner