Coffee doesn't just give you a boost in the morning by keeping you alert; it also helps to improve cognitive function, mood, reaction time, memory and raises the metabolism. Coffee also appears to lower the risk of liver cancer. There are also many nutrients found in coffee beans such as Vitamin B5, B1, B2, B3, potassium and magnesium, as well as plenty of antioxidants. If anything, coffee may actually benefit your health (for those who tolerate it well).
1. Avoid Sweeteners
This one may seem obvious to some people, but you would be shocked to learn just how many people still add artificial sweeteners or refined sugars to their tea and coffee. Besides worsening insulin sensitivity and promoting weight gain, artificial sweeteners promote health problems associated with excessive sugar consumption, including Alzheimer's, stroke and cardiovascular disease 1 . Popular branded coffee can also be loaded with hidden sugars and other artificial ingredients (eg mocha, chai latte or frappes etc).
2. Avoid Artificial Creamers
Artificial creamers are everywhere in Europe, however they are also making their way over to Australia too. Most of these 'creamers' are full of unnatural ingredients. They can consist of high fructose corn syrup, hydrogenated vegetable oils, natural flavours (which can consist of up to 48 different chemical ingredients), stabilisers like dipotassium phosphate, thickening agents like sodium caseinate, additives/ emulsifiers such as sodium stearoyl lactylate or synthetic mono or diglycerides.
If you want to improve the taste of your coffee, add REAL cream, one that's organic and grass-fed. REAL cream has a rich amount of Vitamin K2 and also contains CLA (conjugated linoleic acid). If you are intolerant to dairy try blending some pure coconut cream or milk into your coffee which makes a delicious and creamy alternative.
3. Use Filtered Water
Coffee is mostly water. Many of us don't even consider the quality of the water we use when brewing a coffee. So start with the highest quality filtered water to ensure you get the best possible tasting cup of coffee, one that's actually good for you too!
4. Buy Organic Coffee (it's a must!)
Did you know that conventional coffee is one of the most heavily chemically treated foods in the world? It can be steeped in synthetic fertilisers, pesticides, herbicides, fungicides and insecticides which often give coffee that bitter after taste. In the case of organic coffee beans, most are grown naturally without synthetic fertilisers or chemicals being used in the growing or production stages. This means the beans are richer in antioxidants and taste so much better. One of the notions about organic coffee is that it's just too expensive, and as a result non-organic coffee is consumed instead.  However, if you start brewing it yourself (French press or cold drip coffee) the cost will decrease and as a bonus you will minimise the damage to your body; preventing cancer and inflammation as well.
5. Add Ceylon Cinnamon to Coffee
Do you want an antioxidant rich coffee to help balance your blood sugars levels? Just add a good pinch of Ceylon Cinnamon to your next coffee. Not only will it improve the overall health benefits, it will provide an amazing aroma and flavour too.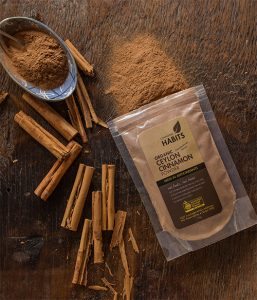 If you wanted to try something a little different to a regular long black, why not try Cyndi's delicious 'Habit Changing Coffee' for your morning pick-me-up.
Happy changing habits.
Jordan Pie
Changing Habits Nutritionist and G.A.P.S Practitioner

References
http://articles.mercola.com/sites/articles/archive/2014/12/23/artificial-sweeteners-confuse-body.aspx
Shimazu, T et al; 2005. 'Coffee consumption and the risk of primary liver cancer: pooled analysis of two prospective studies in Japan. 116(1); 150-154.
Ruxton, C. 2008. 'The impact of caffeine on mood, cognitive function, performance and hydration: a review of benefits and risks. 33(1); 15-25.