Over indulged a little too much earlier in the day and can't face fixing yourself anything for dinner? The last meal of the day doesn't have to be big and 'meaty' to be satisfying – and there are plenty of options other than a salad that are quick and easy to put together. It could be as simple as having a poached egg on gluten free toast with avocado, or even a refreshing green smoothie (a great way to sneak in lots of goodness!). 
For some inspiration, I have put together these 11 nourishing, delicious, light recipes that are quick and easy and won't leave you feeling heavy and even more lethargic afterwards.
Fish & Lettuce Tacos
These Fish & Lettuce Tacos are so quick and easy to make. All you really need is some lettuce (to use as the wraps), white boneless fish and perhaps a few veggies to add to the taco. We used a mixture of chopped fresh herbs, onion, avocado, tomato, cucumber and some lemon or lime juice on top. Something like this could be whipped up in less than 15 minutes.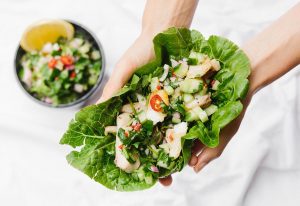 Breakfast Omelette Wrap
Don't be fooled by the name – our Breakfast Omelette Wrap also makes a great dinner. This is a perfect recipe to use up those leftover eggs, herbs and veggies that may be hiding in your fridge from last week's shop.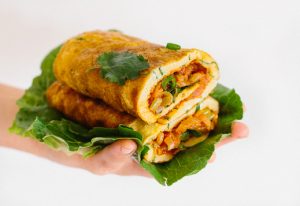 Easy Pumpkin Fritters
The best part about our Easy Pumpkin Fritters is that any leftovers make a tasty breakfast the next day. We love adding in grated zucchini and/or carrot to increase the veggie quantity – you can also mix in a handful or two of grated cheese.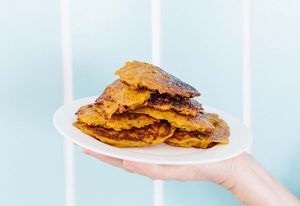 Simple Beef Kebabs with Creamy Garlic & Mint Dressing
These Simple Beef Kebabs with Creamy Garlic & Mint Dressing can be so versatile – use up any leftover veggies and whack them on your BBQ or in the oven to cook. You can omit the dressing and just use herbs, salt and pepper to season them for a super simple, quick meal.
Turmeric Chicken Zoodle Soup
A small bowl of this Turmeric Chicken Zoodle Soup can do wonders for making you feel better and reduce inflammation. Chicken soups are economical and super easy to make. Simply put all of the ingredients into a slow cooker and leave it for around 6-8 hours on low.This is a great meal to pop on as you're having your morning coffee or just about to head out the door to work. By the time you come home, your dinner is ready and waiting for you.
Zucchini & Sage Quiche Muffins
If you love savoury muffins, you'll love these Zucchini & Sage Quiche Muffins. This is a delicious and versatile recipe. Mix it up by adding your favourite herbs, spices, grated cheese or leftover roasted chicken or chemical-free bacon. 
Basil & Veggie Fritters
Another one of my favourite recipes is these Basil & Veggie Fritters. If you're pushed for time and need to create a healthy meal that is super easy, super quick, yet tasty and nourishing then these fritters are my go-to. What I love about fritters is that they not only taste great but you can change up the flavour so easily by adding in other herbs, lots of spices, tomato, feta, smoked salmon, etc. You can also enjoy any of the leftovers for breakfast or lunch the next day.
Lemon & Thyme Chicken Broth
A cup or two of bone broth for dinner can help to settle an uncomfortably full belly. This Lemon & Thyme Chicken Broth is so easy to make. I recommend my clients have some bone broth on hand, whether it's frozen as ice-cubes and stored in a zip lock bag or dehydrated chicken broth. 
Pepita & Coconut Paleo Bread
Sometimes all you really want is a piece of toast. But if you're trying to avoid gluten it can be pretty hard to find a delicious gluten free bread recipe. Try our Pepita & Coconut Paleo Bread – I like to make a batch of it, slice it up once it's cooked and put 2 pieces into ziplock bags and place it in the freezer. Then when I'm in a pinch, or really don't feel like cooking, I can grab it out of the freezer and toast it. Top it with avocado, salt and pepper for a really simple light lunch or dinner option.  
Cauliflower & Herb Detox Soup
This Cauliflower & Herb Detox Soup is a perfect quick and easy meal for those nights where you're full, but you want to up your veggie intake and get some nourishment. You can also make a big batch of this soup and keep some in the freezer for an even speedier dinner.
Blueberry Smoothie
Have you ever tried a smoothie for dinner? This one might sound a bit strange, but stay with me. Our Blueberry Smoothie contains probiotics which will nourish your gut bugs and boost your immune system. I love smoothies because you can easily adapt the recipe to whatever you have in your fridge, and to suit your taste buds.
We'd love to know your favourite go-to recipes for when you don't feel like eating much, or simply don't want to spend ages in the kitchen. Comment and share with us below.
Jordan Pie
Nutritionist