The immunity of the skin is not just based on the tan or the things you put on your skin. It is also important to look at the medications you consume, as specific medications can increase the skin's sensitivity to sunlight. However, did you know that what you eat also influences the health of your skin and how easily you burn when you're out in the sun?
Research has identified certain key nutrients from your diet can actually boost your skin's natural sun protection and protect you from skin damage. We know that a modern diet of refined foods, grains and oils is not conducive to the health of the skin.
While food can be very important, remember to be smart with your sun exposure too. If you choose to be out in the sun for long periods of time it's important to wear protective clothing (if needed), and non-toxic sunscreen to avoid overloading your skin with too much sun.
7 Foods That Boost Your Skin's Natural Sun Protection
Green Tea
Green tea is full of antioxidants and catechins, which have disease preventing properties, protect against sunburn, inflammation and long-term UV radiation damage. Some studies have shown that just 2 cups of green tea per day provides additional sun protection. Iced green tea with added fruits for flavour may just be a great option to sip on throughout the warmer summer months.
Leafy Greens
If it's green and leafy, chances are that it is great for your body. Leafy greens such as kale, chard, spinach, lettuce and herbs are rich in lutein and zeaxanthin which halt cell growth encouraged by UV light. Fresh herbs are particularly antioxidant rich which naturally protect the skin from sun damage. The best way to increase your intake of 'greens' is through a high quality greens powder added to smoothies, water or chia puddings, or for something savoury – a fresh and delicious pesto.
Omega 3 Fatty Acids
Salmon, Changing Habits Inca Inchi Oil and seeds, walnuts, chia seeds and other fresh fatty seafood are all great sources of Omega 3 Fatty Acids. Omega 3's are highly anti-inflammatory as well as protect us against free-radical damage that can be caused from the sun
An easy way to increase your Omega 3 consumption in the diet is to consume this delicious 4 Ingredient Mayonnaise using the Inca Inchi Oil. It can be added to salads, meat, poached eggs or made into aioli and other delicious dips.
Changing Habits Cacao Melts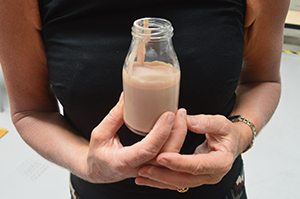 We couldn't leave out chocolate here. Dark chocolate contains a component called 'flavanoids' which has been found to improve the skin's ability to protect against skin damage and sunburn 1.  In fact, last year Cyndi created her very own real food tinted sun screen recipe using the Cacao melts, Inca Inchi oil and coconut oil, as well as a few other natural ingredients.
Cruciferous Vegetables
Cruciferous vegetables such as broccoli, brussel sprouts, cauliflower and kale are rich in essential antioxidants that help to fight against free radical damage and have also been linked to increasing the skin's ability to protect itself from cancer.  
Citrus Fruit and Changing Habits Camu Camu
Citrus fruits such as lemon, lime, orange, mandarin, grapefruit and our Camu Camu Powder are all rich sources of Vitamin C. Citrus fruits contain a component called 'limonene' which has been associated with lowering skin cancer risks by 34%. Citrus fruits and Camu Camu Powder  are also rich in antioxidants that protect the cells from free-radical damage which happens during sunburn.
Aloe Vera
Our last skin protection food tip is to put the gelatinous portion of aloe vera into your smoothie. This internally prevents sunburn as well as hydrates the lost moisture after a day in the sun.
Incorporate more of these foods into your daily diet so you can begin to boost your skin's natural sun protection. Use the power of whole foods to soak in the sun safely.
Happy changing habits.
Jordan Pie
Changing Habits Nutritionist
Resources: