As the summer heat is now upon us in the Southern Hemisphere, the last thing you want to be doing is eating hot soups, stews and slaving away in a hot kitchen, cooking over the stove and/or with the oven on.
We have a solution for you with our 14 favourite summery, nutritious meals and recipes that are easy to make.
1. San Choy Bau
This is a classic Chinese dish, which is traditionally made from chicken or pork mince and placed in iceberg lettuce cups.
2. Pumpkin & Herb Broth Fritters
These fritters are the perfect nourishing meal to make in advance, keeping them in your fridge until you need them. They are full of gut healing ingredients and good fats so they will keep you satiated for longer. They are perfect on their own or you can serve them with fresh avocado and a side salad.
3. Simple Sushi
Sushi is really easy to make and you can experiment with different fillings and flavours.
4. Bacon Quiche with Hidden Vegetables
Quiches are another delicious, quick and easy meal to make that can be enjoyed hot or cold. It's a perfect opportunity to include extra vegetables in your family's diet by making a quiche, as well as using up 'older' vegetables in your fridge.
5. Real Food Taco's Vs Nacho's – Why Not Have Both?
Most people love Tacos and Nachos and when you follow this simple recipe, there will never be a need to buy the packaged or takeaway versions that are full of additives and preservatives. You can experiment with different toppings and base ingredients to suit your taste buds.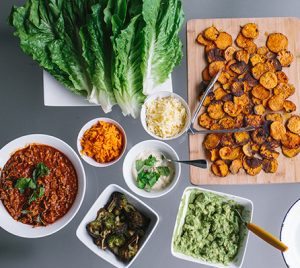 6. Pesto Snapper with Salad & Green Beans
If you love fish, then you will love this delicious, light option that is perfect for a dinner party as it's all cooked in 20 minutes.
7. Cauliflower Rice with Chilli & Lime Chicken
Cauliflower Rice is a super quick, tasty, nutritious, grain-free alternative to rice and perfect for those following either the Changing Habits Hunter Gatherer or the 4 Phase Fat Elimination Protocol.
You can use this Cauliflower Rice to make Fried Rice, add it to soups, curries, salads and even make a pizza base from it. You can add different flavours to the rice such as chopped fresh herbs, kale, spices, onion, garlic, lemon or lime juice, chilli and other grated vegetables such as zucchini or carrot.
This is a great side dish which is full of flavour. You can mix through some salad and serve it with roasted vegetables, meat or fish. It's also a great accompaniment to pork or lamb chops and sweet potato mash.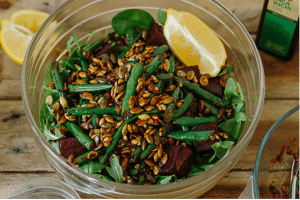 9. Tropical Rocket & Mango Salad
This is a perfect simple salad to combine with fresh grilled fish and lightly steamed beans.
10. Prawn & Veggie Rice Paper Rolls
These rice paper rolls are perfect as a snack or as lunch. You can also experiment with different flavours.
This is another perfect dish for a weekday dinner or lunchbox idea for your children.
If you're looking for a vegetarian option, these patties are perfect to make in advance and store in your fridge when you need them.
13. Roast Pumpkin, Avocado & Fetta Salad
The walnuts in this recipe will help your brain function and the avocado can help prevent cervical cancer as well as provide your body with lots of quality fats.
14. Simple Summery Lime & Zoodle Salad
This zesty tasting zoodle salad can be eaten on its own or tossed with some protein of your choice.
We hope you like some of these lighter, fresher nutritious summery dishes as much as we do.